Anterior is a band that will not be known by all our readers I think, could you please give a short story about the bands history?
Leon: We started out as a five piece, all school friends. The usual route of playing covers in local gigs. After a few line-up changes we started getting serious as a four piece with Luke playing guitar and doing vocals. So we actually started working on our own material and just trying to discover what we were all about. After a few local support shows for bands such as Himsa, The Black Dahlia Murder and Dragonforce we decided to knuckle down and write some really great songs for a demo in an attempt to get signed. So we wrote four tracks, which actually feature on the album "This Age Of Silence". We then recorded this tracks got signed to Metal Blade very shortly after and proceeded to write the album. I ended up tracking all the guitars on the album after Luke got Carpel Tunnel and was unable to play guitar. We then got ex Mendeed guitarist Steven Nixon in the band to take over from Luke's guitar playing duties. Done some touring over the next 3 years with bands such as Himsa, Children Of Bodom, All That Remains, The Haunted, Sylosis just to name a few. We had lot's of problems with finding a permanent drummer after Ross decided to leave the band to pursue another career. This was the main stumbling block in getting our second album recorded as we didn't want to record an album without a permanent drummer. So after we found James Cooke we finished writing the album and recording it. That's pretty much up to date.
How did the band get the record deal with Metal Blade, did they contact the band, or did you have to convince them to sign you?
Leon: It's a weird story really. We recorded a four track Demo and uploaded the tracks to our Myspace page. About a week later we received a message off a guy called Benjamin Niebla, he was a manager based in Mexico who also runs a festival in Monterrey. So he was really interested in the band and basically said he could land us a deal. We didn't think a lot of it at the time it just seemed like an empty promise. A few days later he came back with an offer from Metal Blade Records and a label called Magic Circle Music owned by Joey Demaio from Manowar. So we negotiated the deal over the next few weeks and signed a deal. Pretty much as quick as that, at the time we hadn't even played outside of Wales. We started work on writing the album then and the four tracks from the demo that got us signed we re-recorded for the album too. And here we are now.
After your first album 'This Age of Silence' things got rolling. Many live appearances followed. What is the tour you enjoyed the most so far?
Leon: It has to be the dates we done with Children Of Bodom, it was only two dates an Irish date and a Scottish date. They are one of my favourite bands and Alexi was A big influence on my guitar playing for many years. So it was really cool to meet the guy's and share a stage with them. Definitely one the best moments in my life so far.
Any negative experiences about a gig?
Leon: Yeah of course there's always bad moments in certain gigs. It's like anything in life really there's always ups and downs. It can be anything too, sometimes really bad onstage sound can ruin a gig for you. Especially if the drummer has a bad monitor mix it can be very difficult to stay in time. A bad turn out can ruin a gig too, or just technical problems. And once something has gone wrong it's very difficult to get back into it. It's stuff you get better at dealing with through experience too, the more times things go wrong the better you are at dealing with them. I remember the one show we was travelling to our van caught fire. Luke and Nixon were in the back and for some reason the key wouldn't open the doors. So eventually we got them out with a crowbar and the boys kicking from inside. All the while there were people screaming to get away from the van because it was going to blow. But we got them out and we was about 500 yards from a fire station. The cleaner had seen the van on fire and shouted to the Firemen to come and help us. So they put the van out and our gear was fine. We then arranged another lift and went and played the gig. That's gotta be the worst experience we've had so far. But the gig was awesome.
In James Cook you found a new drummer, why did Ross Andrews leave the band?
Leon: The main reason was he just realised that the band life wasn't for him. The long periods spent away from home. The difficulty in keeping a decent job and having enough time to dedicate to the band. It is tough because obviously when your still climbing up the ladder like us you're expected to be as good as big established band but hold down real jobs too to pay the bills. It's difficult to find the time to practice and write sometimes. We're still good friends, but he's settled down now with a good job. This life just isn't for everybody.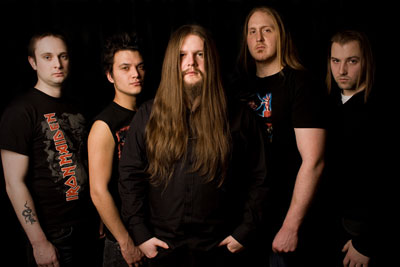 Your singer Luke, used to play guitars, how is he doing at the moment, any chance for him to play again?
Leon: We gained a brilliant guitar player in Steven Nixon so I don't think we'll ever go back to Luke playing on all the songs. He has recovered from his injury now so we do have that option of if we really needed 3 guitars we could do it. Maybe for an instrumental track or some acoustic stuff live. It's nice to know we have the option if we need to use it.
Your new album 'Echoes of the Fallen' is produced by Scott Atkins, why did you choose him for that job? Does the album sound the way you wanted it?
Leon: We knew Scott from his days in Stampin Ground so the connection was already there and after his work on Sylosis's first album and pretty much everything he's done since we would have been stupid not to work with him. He's a very talented producer and in my opinion he's going to go very far in the business. He's a brilliant engineer and I think the album sounds amazing really big and clear sounding but still natural not too triggered. But as a producer he's really great and he helped develop the songs a lot in the studio. He helped us get that extra 10% out of every song. We changed drum patterns, simplifying the kick work really opened my eyes to how simple kick drums work much better sometimes giving the song room to breathe. We also changed riffs, vocal patterns and lyrics. Everything really he had a hand in. Scott was the sixth member of Anterior for the duration of this record. I look forward to working with him again and hopefully we can go back there for the 3rd album.
Who is responsible for the song-writing?
Leon: I handle most of the song writing, Nixon also contributes riffs and parts. Some songs were written up in Scotland with just the two of us working on the tracks and getting them done. Then other tracks were finished in Wales with myself and Luke helping with arrangement ideas. All the music is written either by Me or Nixon. We always write using a small studio set up. Just a pro tools rig with programmed drums to get the songs together, we don't really write in the rehearsal room. I find it more productive to be able to listen back to the riffs and parts just as a fan would be doing. When you're actually playing the riff it's difficult to be objective about it and hear it properly like everyone else because your concentrating on playing it. So we get all the tracks demo'd in, then James works on the drums afterwards writing fills and just playing like a real drummer would instead of a drum machine. The vocals are always done last. Me and Luke usually sit down and just try ideas over the songs with random words until we build a solid structure. Then we substitute the nonsense for real lyrics. It is pretty time consuming but that way you get really catchy patterns and good lyrics rather than letting the lyrics create the patterns.
The songs have many melody and I especially like the guitar solo's. Is this a way you want the band to be different from a lot of other metal core acts?
Leon: We've always put guitar solos in our songs right from day one and I think it's something we have that a lot of bands don't have. It's just part of our sound now, I think if we wrote a track without a solo people would be annoyed, it's almost expected now. I don't really class us as metal core to be honest, I think we fit better into the Melodic Death Metal category with bands like Arch Enemy. Melody is very important to us, especially since we don't have melodic singing we really on the guitar melodies to create the hooks in the songs. So hopefully we do offer something that a lot of bands can't offer.
The songs have many thrash riffs, are there thrash bands you like and by which you are inspired?
Leon: I think you get inspired by all music you listen to some even without knowing about it. Especially when you tour with bands you tend to pick up on things that a particular band does well, because you end up watching the bands like 10 times in 12 days or something. It's like when we came off the Metal Hammer tour with Sylosis I found myself writing riffs and thinking fuck that sounds like Sylosis. Nothing intentional it's just you're so used to hearing that sound that it just comes out. That's how bands develop though, you take little bit's from other bands be it a stage show or anything really. I've been listening to a lot of old Metallica quite recently so it may be from that. But it was no intentional move to be more thrash or anything it's just whatever comes out and sounds good at the time.
The biggest critic I had was about the singing style of Luke Davis, not that it is bad, but it sounds so metal core. What I want to say with this, is that you don't immediately recognize that you are listening to Anterior and not one of the other metal core acts. What is your view on that?
Leon: I think Luke improved greatly on this album, we spent more time working on vocal patterns, melodies and the lyrics. It's very difficult to be original these days when it comes to vocals and unlike guitar where you can simply change your amp settings and immediately sound different, for vocalists you can only work with what you have. He'll only improve over time with more hard work, but I have to be honest I really enjoy the vocals on the new album. And there's a definite melody to a lot of the choruses which we worked very hard to achieve so people can almost sing along.
The metal core scene is overwhelmed with bands, isn't it difficult for a band to protrude?
Leon: Yeah of course within any genre of music it's difficult to stand out, and music is such a nasty business. It's really competitive and you get bands slagging each other off and really needless harsh reviews sometimes so it's really all against you. All you can do is try to write great songs and keep doing what you believe in and hopefully it will take off. We've always stuck to our guns and never changed to fit the scene and hopefully that will be what makes us stand out in the end.
Please tell our readers why they should give the new Anterior album a chance, what makes this band different/better than other genre mates?
Leon: Well why not give it a listen? It's 45 minutes of your life that's all, who knows you may love it and if you don't it's no big deal. If everyone's taste in music was the same the world would be a very boring place and Anterior's not going to be for everyone. But, if you like a lot of melody in your metal and some shredding guitars then you should definitely check it out. I think we've made a really solid 2nd album with some great songs and it's definitely worth at least one listen.
Last month you played at the Sonisphere festival, how was that?
Leon: It was pretty amazing, we were a bit worried to how many people would be there because we were on the same time as Limp Bizkit. But loads of people came to watch us and we received a brilliant reaction from everyone that came, so a big thanks to everyone that came out we really appreciate it.
Will the band be touring around Europe in the next months?
Leon: Yes we'll definitely be hitting Europe either later this year or early sometime next year. Nothing is confirmed yet but there's some talks going on about a few potential tours so hopefully we'll have some more info on that in the coming weeks.
Anything else you want to share with our readers?
Leon: Thanks for reading guy's and please take the time to give our new album a spin, who knows you might just love it!
---