---
Can you tell us the story back Anatomy of I, how the trio was formed?
I've known Dirk for many years, since we were kids, and we've jammed together a handful of times. We specifically worked on a project in 98 which sounded like a raw version of what 'Anatomy of I' has become, but we ended up never recording it properly, as I wasn't happy with the arrangements. Over the years, Dirk became busier by the minute and while the idea to collaborate on something was still there, I was determined to find a local line-up in the Netherlands. When the zillionth line-up failed, I gave Dirk a call and the rest is history. Regarding Steve, it's a similar story as we've been friends for about 15 years and have jammed in the past, most notably on a jazz-fusion project with Sadus drummer Jon Allen; this never got past these infamous jams that we were stupid enough not to record. So when the music for 'Substratum' was done, having Steve play bass on it made perfect sense.
How overbooked musicians can find the time to collaborate and to give birth to a new musical production?

They're experienced session musicians so they're used to picking up stuff on the fly. I spent quite some time fine-tuning the songs and programming drums to give Dirk an idea of what I was looking for. I'm sure this made his life a lot easier, and also the fact that he recorded it in his home studio gave him more time to try things, listen to it, change it a little, etc... I think I sent the demos to Dirk in January 2010 and he started recording some stuff in February and wrapped it up in April. Steve on the other hand had 4 off days while touring with Obituary, which he spent recording in my home studio. I simply showed him the riffs and at times played him the bass parts I had thought of while demo-ing the material. He came in unprepared as we both agreed that it didn't make sense for him to learn the songs while he had live shows with two bands he had never played with that same month (Obscura and Obituary)... we figured he should concentrate on that first and we'd manage the ANATOMY OF I material in the studio...time-wise it went just fine, as I doubt the result would've differed much if we'd had a few more days to do this.
Michael Dorrian was the only composer and wrote all the lyrics, but it is a bit hard to think that Steve Di Giorgio and Dirk Verbeuren were simple executants. Can you tell us about each one's contribution?
I wrote all the songs, programmed the drums and demoed some bass lines, so the basics were all me, but as you've suggested, Steve and Dirk brought a lot to the overall sound. I had planned specific sections where Steve or Dirk could shine by doing their trademark things, but they brought more than just that to the table. For instance: Dirk suggested to push the speed of 4 songs up by 10 to 20 bpm, and also cut out a few riff repetitions here and there, while Steve often played variations to my riffs when laying down the bass lines, sometimes causing me to change the riff to fit his part better. As we've recorded in the traditional order with drums going first, then bass and finally 2 different guitar parts, we were able to play around with this and have that feeling that there'd been some jamming going on beforehand. Steve made sure his parts were the glue between the drums and the scratch guitars, and I added my parts on top of that, adding an extra layer of chord changes combined with guitar-synths. All in all, we ended up with quite an organic result even though things were recorded in a modern and somewhat sterile way, considering the use of different studios at different times, etc...
The recording took place in Belgium (vocals), the Netherlands (guitars and bass) and the USA (drums), then the mixing and the mastering in Italy. Was it with the purpose of making the process easier, or was it more difficult but necessary for the result you wanted to get?
All this happened pretty naturally... Dirk lives in the US and recorded in his home studio, while the guitars and bass parts were recorded in my studio in Holland. I was looking for a good studio to record the vocals and a friend suggested to go to AK in Belgium, which was just a 2 hour drive. I had met AK before, as he's the live sound engineer for Brujeria and Carcass, I just wasn't aware of the fact that he was running a studio when he wasn't on tour. It's safe to say that these choices were rather logical, yet, for the mixing/mastering I was looking for the right person who'd understand what we were looking for, and would be open to trying things out rather than simply sticking to a formula he has applied for x-amount of bands. I was hesitating between two studios, one of them suggested by my friend Sym (the Modern Age Slavery, Empyrios, Mnemic) : Fear Studio with engineer Simo Mularoni (DGM, Empyrios). Although I didn't know him personally, the vast amount of different bands he had worked with was very appealing and I'm definitely not regretting it. Simo has excellent engineering skills, great ears and the communication was also top notch. We'll definitely work with him again on the next release.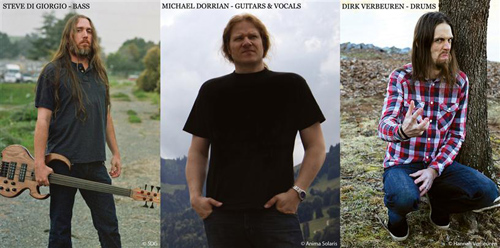 Can Substratum be considered as an excellent heir apparent to Chuck Schuldiner's legacy or it is much more to be only defined so?
Although Death was one of my main inspirations in my teens, I wouldn't say ANATOMY OF I is a heir apparent to what Chuck did. I won't deny that some riffs have been (unconsciously) inspired by Death, Steve's presence also adds to that Death sound and the fact that I've asked Dirk to go crazy on the fills and breaks while keeping a high tempo beat is reminiscent of Reinert and Hoglan, but the comparison ends there. There are a lot of different elements in our music and we have a sound of our own which will only become more apparent when we'll have a few more releases under our belt.
Substratum's songs contain many ideas despite their effective short duration: what is the magical formula?
It was intended that way, as I wanted the songs to be short and catchy with many different layers, inviting the listener to go listen to the songs over and over again and keep catching new subtle details. I'm not against writing longer songs, as long as it makes sense and keeps the listener interested all the way through it.
Still around the "overbooking" question, Dirk cannot play on tour with Anatomy of I. Can you tell us about the choice of Obsidian's Melle Kramer?
As a matter of fact, common friends had suggested Melle back in 2006, when I was looking for a new drummer for what would become ANATOMY OF I, but since Melle was busy with a new Obsidian record back then, I didn't bother contacting him. We exchanged a handful of emails over the years, but that's about it. When I started looking for a local line-up, he was the first one to come to mind, so I simply sent him a mail and it didn't take him long to enthusiastically accept the offer. We've already had a few rehearsals and things are going great. Not only his playing, but the overall vibe is fantastic!
On this same topic, Steve won't be able to play with us live in 2012, so we've hired Robin Zielhorst (EXIVIOUS, ex-CYNIC) to play with us. To complete the line-up, we've recently added Tobias Ruijter to the mix on rhythm guitar, who has played in a couple of bands with Melle, before Melle joined/started Obsidian.
Is Anatomy of I destined to be a one time project or can we hope for a second CD in one or two years?
ANATOMY OF I is definitely a real band working on building a solid career with many more releases to come. The composition of the second album is about 70% done, and I expect to have it all demoed out before the end of the year, yet, we need to focus on 'Substratum' now and promote it in 2012 with as many shows as we can.
After many years of varied music experiences, how do you feel as musicians and persons? How these experiences feed you? Are you still hungry?
Since this is my first 'official' album, my state of mind is a little different than Steve and Dirk's as they have recorded many albums over the last 20+ years, but I know for a fact that they're excited about it as they had never recorded together before and they have a great respect for each other. Anyone who listens to this CD will hear this hunger you've mentioned, and I can't wait to bring this monster to the stage near you.
A final word or comment to close this interview?
Thanks for the interview ! You can find our debut CD exclusively at www.anatomyofi.com or on itunes/amazon for the digital release. For tourdates, check www.anatomyofi.com or www.facebook.com/pages/Anatomy-of-I/265050776615.
---