---
Could you please introduce the band to our readers?
Alan: I'm the drummer. Sam Hafer is our guitarist, Shane "The Brain" Murray is our keyboardist, Brandon Davis is our vocalist, and John Malloy is our bassist.
You released 3 EP's before inking a deal with Metal Blade, is the music on these three a lot different from the one you play on the debut?
I feel as though the music differs greatly from our previous releases. Like many bands in metal, Across The Sun is constantly learning and evolving. While writing Before The Night Takes Us, we focused heavily on the composition and structure of each song, which provided a much more mature and sharpened sense of song writing.
How did you get in contact with Metal Blade records, or did they contact you?
We were on their radar ever since we released our second EP, Storms Weathered. At the time, we had zero touring experience so they understandably refrained from making any serious contact. After we released our third EP, Pestilence & Rapture, they began taking a stronger interest. We toured for several months on that release, and even played New England Metal & Hardcore Festival. It was at that festival that a majority of the Metal Blade staff was in attendance, a few of which were standing front row fist pumping and head banging. It was an obviously surreal experience. Shortly after our set at NEMHF, our manager spoke with Brian Slagel and made arrangements to get the ball rolling.
At first I thought, huh, yet another metal core band from the US, but after a minute I realized I was wrong. Quite an impressive debut album. Who is the main songwriter in the band?
Sam and I (Alan) normally lay out the skeletons for each track considering that guitar and drums are what we call the "meat and potatoes" of metal. Each individual breakdown is also written by either Sam, Me, or it's collaboration between the two of us. We tend to get rather self indulgent with the technicality and complexity in the syncopation. Once we've mapped out the broad aspects of each composition, Brain (Keys) will contribute where he feels he can without his parts conflicting with the primary instrumentation. We normally sit on a song for days or even weeks while picking at it obsessively before considering it finished. I like to add clever stops or transitions in an effort to dice up the monotony of the typical verse/chorus structuring. Vocals are always written lastly. Brandon prefers to have the music finished beforehand, so he can adeptly place melodies within the song.
With all the different styles the band combines in their music, it all sounds rather original and I can't think of a band that can be compared with you. By which bands or genres are you influenced most? Pain of Salvation must be one of them too?
Our influences are as varied and wide as it gets. If I were to keep the list tied down to just metal it would be: Scar Symmetry, Soilwork, Dark Tranquillity, and Unearth.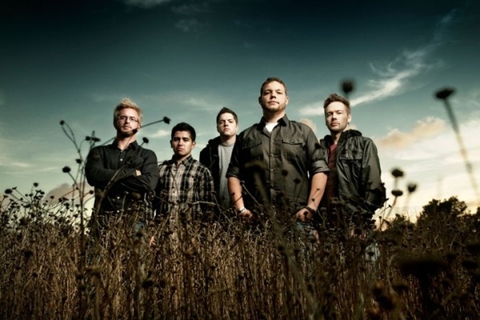 What makes the music different is the use of the keys throughout the songs. They are awesome and give the songs something extra. I tried to describe your music for our readers with this term: melodic progressive keyboard oriented metal core. Can you live with that?
I think we could. One of my favorite things about Across The Sun is our use of the keys. Instead of Shane holding down different ominous notes every eight to sixteen counts, he takes the place of a second guitarist providing viral melodies that will be stuck in your head for days on end. He caters to the music by balancing intricacy and subtlety.
Besides the use of the keyboards, also the guitar solos are very good, but I think the combination of the cleaner parts and the heavy parts makes the band special. Is it difficult to write such well arranged and balanced songs, without creating a mess?
It can be difficult at times. There have been instances where we've written and recorded material, and then upon reviewing it, realize that there's a wealth of extraneous material present in the song. Our main priority when writing new material is to maintain fluidity and balance. I was somewhat of a zealot for tightly constructing compositions during the writing process of Before The Night Takes Us. We're still learning how to approach the issue balancing creativity and solidarity, but we're progressing a little more on each record.
Does Brandon Davis do all the different styles of vocals on the record and is this easy for him to do live on stage for example?
What you hear on the record is all Brandon. He's the guy that refuses to use any Pro Tools magic whatsoever. When performing live, we normally delegate backing vocal responsibilities to Sam and Brain. This ensures that Brandon isn't overexerting himself throughout the tour.
How are the first reactions from the press on the record?
So far we seem to be doing well with European fans/reviewers. The album is scoring high, and some amazing things are being said about it. We're excited to see more reviews as we get closer to the release date.
The fans you have, do they have a metal core background or do they come from the progressive metal genre? Maybe it is too heavy and brutal for some progressive metal fans and perhaps there are too many clean parts for the metal core fan?
We have an incredibly eclectic fan base. The variation in the types of people that approach us on tour, is astounding. I'm sure, just like with every band, there are going to be aspects of our writing style that appeal to some more than others, but we're looking to bridge the gap, not enlarge it.
What do you want to express with the artwork?
The album artwork encompasses the idea that making peace with your demons, before becoming enveloped within the ruinous grasp they can harbour. I wanted to personify this by placing a damaged, desperate man into a scene in which he is escaping the darkness, in pursuit of the light. The artwork needed to evoke thought and emotion by using warm and vivid tones to create a surreal and inviting horizon. I spent over two hundred hours designing our album layout. It was an arduous process but we're all very pleased with the outcome.
With Metal Blade behind you, you will be touring somewhere in 2011 I guess, already some definite plans?
Our label and management are making moves all the time. They, like us, want Across The Sun to be on tour as often as possible. We love travelling the country and performing for our fans night after night.
Anything else you want to share with our readers?
We're beyond excited for the release of our new album, Before The Night Takes Us. You're all going to be very pleased with the musicianship, and dedication behind this record. We'll be on tour for much of 2011! Hit us up on Facebook and stay connected with new tour dates, merchandise, and music by "Liking" the page.
---