A NEW HOPE
Since forming the band about 20 years ago, guitarist/vocalist/band mentor Tom Phillips led While Heaven Wept through a turbulent history of line-up issues, record label break-ups and conflicts at an introspective level. Despite all this, he carried on and his determination and faith in the band reaped its rewards in the form of enthusiastic fan support and, more recently, a promising deal with Nuclear Blast.
For those who have until now missed out on the band, the music of While Heaven Wept lies within the Doom Metal panorama but the band has never shied away from sweeping cliches of the genre under the carpet and offering in their own creative perspectives. This might in part be accredited to the wide range of Metal genres that the band members enjoy listening to and have indeed been involved in in the past.
I recently caught up with Tom in order to assess the current situation with the band and reminisce on various junctures that brought While Heaven Wept to where they are now.
Congratulations for the deal with Nuclear Blast. Do you think it will provide a climate conducive to a more stable line-up within WHW?
Thanks a lot for your support and sentiments... it's obviously a big change for us! That being said, I'm not really sure if the deal has any bearing upon the stability of the line-up, but the fact that WHW is now an LLC certainly does haha! In all seriousness, the line-up has remained the same since 1998 apart from Trevor [Schrotz] taking over the drum stool in 2004... and of course the expansion via Rain [Irving] on vocals (2008) as well as Jason on 2nd keys/vocals (2010).
What aspirations do you hope to realise with this deal?
Really, we just want to continue what we've been doing all along: releasing high quality albums with the best productions possible and performing music that is sincerely from the heart... without regard for genres. I do hope that through Nuclear Blast we can reach more people, that our albums will be easier to find, and also that we can stage more elaborate concerts. I imagine we'll also be able to release more music more frequently than in the past where I financed everything out of my own pocket.
WHW have just finished recording the band's 4th full-length (...in 20 years, I might add). How did the songwriting/composing process develop?
Well, in actuality all of the songs except one were composed prior to completion of "Vast Oceans Lachrymose", and the vast majority were meant to be included on that release... that is, until "The Furthest Shore" developed into a side-long epic; once that transpired, we let the music determine the natural flow, and "Shore" demanded it be the focal point. As an aside, of course there's a massive quantity of material "in the archives" from the past 20 years, but again, the music itself determines when it should be heard and where it belongs (two cases in point being "Vessel" and "To Wander The Void" - both dating back even before the debut "Lovesongs Of The Forsaken" EP!). In the case of "Fear Of Infinity" at least 2 of the songs were originally recorded in 1998 for "Sorrow Of The Angels" but were not released... we've since re-recorded them with the new line-up and tweaked the arrangements.
Anyway, as far as how the songs developed... whenever they did... pretty much the same way as always: through emotional catalyst. There's never been any rhyme or reason honestly... just genuine reactions to real-life events... nothing is ever forced into being musically or lyrically. The only time I actually sit down to create anything is when we're finalizing arrangements... otherwise, everything else comes through natural revelation.
Could you give a synopsis of the lyrical and musical content of "Fear OF Infinity" including the meaning of the title?
"Fear Of Infinity" is a much darker album than "Vast Oceans Lachrymose" or even "Of Empires Forlorn", oftentimes recalling the hopelessness of "Sorrow Of The Angels" (especially considering a couple songs would've been on that album as aforementioned). Overall, the aggressive parts are more so and the material is less progressive in a technical sense... not necessarily in a harmonic sense however; there definitely is a stronger emphasis on 20th Century harmony as inspired by the likes of Pärt, Hovahness, and Gorecki.
Lyrically, the album revolves around the lifespan and death of a particular relationship... things I needed to say that I never had the chance to. It's quite brutal in that regard, but it's what came out naturally. "Fear Of Infinity" relates in many ways to one of the songs "To Grieve Forever"... the fear the darkness and mourning will never pass... and for as many successes or good things that I experience, I've come to terms with the fact that the very real doom in my heart will never leave. Not that I'm a miserable bastard... WHW allows me to ventilate and heal... but the scars always remain.

When the album was being written, was the NB deal already on the table?
No, this is the exact same album we were prepared to record with Cruz Del Sur Music once again when the offer came through from NB... and honestly, it was too good to pass up. Beyond that, since "Sons Of Northern Darkness", we've always had the ambition to be on the same label as Immortal!
I believe you already have plans for a 5th album. Are there any ideas you would like to work on for that release?
Yeah, actually... the fact is that most of "Fear Of Infinity" is "archival" material... but I've never stopped channelling new music in the meantime. We're just about "caught up" on the songs "waiting in the wings" and I have an entire album of material ready to be addressed from the last couple of years alone. We're currently working on the development of two albums actually... once again different from all that has come before, yet clearly WHW.
WHW vox Rain Irving had come from a Prog Metal background - what obstacles (if any) did he have to overcome when joining WHW?
The only obstacle Rain had to overcome was getting past the concept of replacing me; he was a fan first, and for a lot of people, my vocals were synonymous with WHW - Rain was no exception. When all is said and done, indeed, my voice is very unique, but not necessarily technically perfect... Rain's voice is world-class, and I'd like to think that "Vast Oceans Lachrymose" speaks for itself... if not that, "Triumph:Tragedy:Transcendence". In truth, Rain can sing just about anything... and he fits in perfectly with us in terms of personality, so it's truly a marriage made in Heaven. Or Hell haha.
Maybe I'm going out of subject here, but is Altura still active?
Altura is for the moment, a done deal. They attempted to reunite recently, but a couple of the original band members have issues that haven't been resolved. I know there are a lot of people out there that would love to hear a second album, but for now, the closest they're going to get to that is having Rain and Jason together again in WHW. Maybe down the road circumstances will be different, but we've got a lot to do with While Heaven Wept as it is.
[Note: Jason and Rain played together in Altura.]
In the past you've been involved with several bands and musicians outside of While Heaven Wept. This included a tenancy with Twisted Tower Dire (a highly regarded Epic Metal band) and Brave (with whom WHW share a number of band members). How would you describe your experiences with these 2 bands? Are you still involved with them?
In both cases I was involved with the bands during their genesis... the formative stages... and I really did believe in the music and musicianship completely... so much so in the case of Brave, that I was willing to set WHW aside in fact. Both bands were opportunities to explore other facets of my personality and expound upon other musical influences, and I totally embraced that. These days, I'm only on the "fringe" of either band... providing insights and moral support; While Heaven Wept is a full-time job for me, and I've come to the conclusion that I can fulfil all of my musical ambitions/needs with this band alone. That said, at the moment, Brave is on hiatus due to the fact that Michelle and Trevor just welcomed their 2nd child into this world, plus WHW's commitments are extensive right now... and regarding Twisted Tower Dire, their new album "Make It Dark" is coming out on Cruz Del Sur in 2011... I'll be involved with the mixing in some capacity, but in either case, WHW is really all I have time for these days.
How did your involvement with Solstice (a cult English Doom band) come about?
I was told many times (back in the early 90's) that Solstice was the UK version of WHW or that we were the US equivalent of them, but honestly, given the fact that there were several bands with the same moniker, I never put two and two together until John Perez of Solitude Aeturnus sent me a copy of "Lamentations" haha... I mean for some time I thought people were on about the Dutch band Solstice and my reaction was always "No... I don't think so". Nonetheless, I eventually figured out what everyone had been on about and it just so happened that I was heading to the UK with my University's choir in 1995... subsequently I bailed on those responsibilities to go hang out with "the drunkest band in England" (admittedly intimidated).
As fate would have it, while I was there, I made an off-the-cuff comment to Rich [Walker - Solstice guitarist and mentor] that I'd be more than happy to help out Solstice any way I could... little did I know he would take it to heart. Mere days later, Simon Matravers quit the band, and Rich came to me in London before a gig of theirs with an offer: "If you want the job, it's yours"... I was already piss drunk, but I accepted without hesitation... and proceeded to make an arse of myself onstage with them that night... but it was exciting nonetheless. I returned to Yorkshire in 1996 to "get down to business".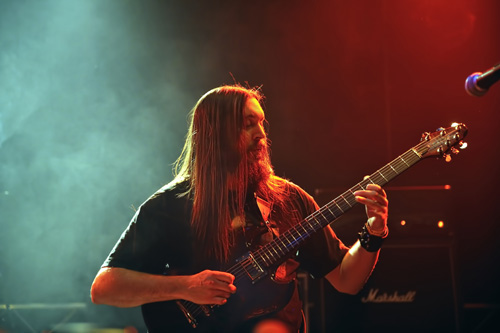 Tom Phillips
Were you living in the UK when collaborating with Rich Walker & co? If 'yes' what were your impressions of the UK scene in relation to that of your native Virginia?
Yeah, I left everything behind and relocated to the UK for a while... unfortunately it was during a time of turmoil within the band... there were some issues with record companies and ultimately, Gian Piras [Cradle Of Filth, Extreme Noise Terror, Christian Death] departed during this timeframe as well, which sent us into upheaval. I was also a bit "green" as far as being a frontman, and we really didn't rehearse as much as we should have... plus I had some unfinished business with WHW in my heart as well. It's really all a shame because the potential was enormous... I still hope that someday we'll realize it fully. That aside, living in the UK was eye-opening and humbling in many ways... it changed my life really; I was transplanted from the "me me me" of the Washington DC area and submerged in a tough, Northern England industrial town... and believe me... I needed this... otherwise I would've killed myself or someone else; I learned to slow down quite a bit and cherish what really matters... true brotherhood... strong lager... the concept of cheek... ah... those were the days really.
As for the difference between Yorkshire and Northern Virginia... well they have pubs, metal bars, and amazing Indian cuisine... we've got fuck all here. Musically speaking, it was a fertile time... in Virginia (and surrounding territories) it was full-on Death Metal in spades... whilst in Yorkshire there was a much gloomier thing developing. I attribute that to the moors. And the perpetually bleak weather forecast plus a fucked economy.
Speaking of Virginia, I believe Doom legends Pentagram are also from there - how had this band influenced WHW?
Indeed... Pentagram are our local "heroes"....Joe Hasselvander was my drinking buddy for a few years... I mean what can you say about 'em; Bobby and co. have were doing it before Sabbath really! I'd be remiss if I said they were not an influence... they were... but not nearly as much as Fates Warning and Candlemass; we're really a product of the 80''s moreso than the 70's... at least as far as the metallic aspects of WHW are concerned. I definitely feel more "connected" to Pentagram in that we're both Virginian bands... heavier and darker than our Maryland counterparts... but apart from "Dying World", "Sign Of The Wolf" and the "Be Forewarned" album... hmmm... hang on... there's also "Forever My Queen" and some of the other 70's material... shit... I guess you could say Pentagram are more of a subconscious influence than a literal one. That said, they put Virginia on the map as far as Heavy Metal is concerned, and it will be a killer thing to share the stage with them for Hammer Of Doom 5 in Wuerzburg, Germany on April 16th (2011).
Back to WHW's music... with hindsight I think "Of Empires Forlorn" was a turning point in both the band's music and career. What does that album represent to you personally?
"Empires" was indeed a turning point for WHW... long before "Vast Oceans Lachrymose"... it was the album that introduced us on a global scale, and there are a lot of people out there that still consider it our finest hour. For me, that album was something of a reaction... to everything that had transpired since the topics of "Chapter One" (which related to a specific relationship... the thing about "Empires" is that it addressed everything since then...). "Empires" was the album that pushed and expanded the boundaries of Epic Doom Metal without pretence... we really took the concept of Doom Metal as far as we could and still be considered as such with that one. The material of which "Empires" is comprised is still very close to my heart to this day, and much of this will always be a part of our live repertoire. In a lot of ways, it's the album that "set us free"; "Empires" nudged open the very same doors that "Vast Oceans Lachrymose" full-on kicked in.
Which song/s from WHW's repertoire tend/s to do well at live performances?
The thing is (and I'm sure this is true for almost every band out there), there are fans of every song and era... we'll never be able to please everyone, and we don't concern ourselves with that; I figure if WE as a band are "feeling it" then it will translate regardless. We strive to represent every era of the band at every performance, and will continue to do so. These days, from what I understand anyway, "Thus With A Kiss I Die" is expected (it's the only song we've performed at every WHW concert ever), and there's a strong demand for "Vessel", "The Drowning Years" and "Voice In The Wind"... sometimes "Of Empires Forlorn" as well... hmmm... really the big picture is we want to take people on a journey with our concerts... really make them experiences... so it's only now that we can truly design "the rollercoaster" with the release of "Fear Of Infinity".
Amongst the bands signed with Nuclear Blast are Candlemass - I'm sure a tour with the Swedes (+ 1 USA band member, to be precise) has crossed your mind. Is there any realistic chance of this happening in 2011?
Actually, despite the fact that Cmass are amongst the primary influences of WHW... particularly in the beginning... we really have no desire to go on tour with them; it is not that we would turn the concept down, but we're not really interested in "preaching to the choir"; anyone that is into their music is likely to already be aware of us... we'd much rather roll out with bands that offer a different audience to win (or lose) over... Primordial, Arcturus, Mono... bands that blur genre classifications but still have some relation to WHW. And, as a matter of fact, we're rolling out with one of the greatest billings of recent years in 2011: Primordial/While Heaven Wept/Alcest... to me, this is absofuckinglutely perfect...
Thank you for your time in doing this interview. If there's anything else you'd like to add now's the time to do it....
Thank you for the opportunity to talk about WHW and our goings on... we really appreciate it! Thanks also to everyone who has supported us for the past 21 years.. we're really only getting started! I encourage everyone to check out our new DVD "Triumph:Tragedy:Transcendence" and come share a beer or ten with us on the Primordial tour! Hail!
Copyright Chris Galea (2010)
---
Current line-up:
Rain Irving: lead and harmony voices
Tom Phillips: guitars, keyboards, voice
Trevor Schrotz: drums
Scott Loose: guitars
Jim Hunter: bass
Michelle Schrotz: keyboards, harmony voices
Discography:
Fear Of Infinity (album - t/b/r)
Triumph:Tragedy:Transcendence (2010 - live recording)
Vessel (2010 - 7" Single)
Vast Oceans Lachrymose (2009 - album)
Of Empires Forlorn (2003 - album)
The Drowning Years (2002 - 7" Single)
Chapter One: 1989-1999 (2002 - 2x LP retrospective)
Sorrow of the Angels (1998 - album)
The Mourning (1997 - split 7" with Cold Mourning)
Lovesongs of the Forsaken (1995 - EP)
Lovesongs of the Forsaken (1994 - Promo)
Into the Wells of Sorrow (1994 - 7")
Related websites:
www.whileheavenwept.com
www.myspace.com/whileheavenwept/videos (includes the entire live footage in streaming format of the "Triumph Tragedy Transcendence" album)