I am sure most of our readers don't know a thing about you – could you please introduce the band and tell a bit about your background?
Dan - All right, I understand. The "PANDEA" family simply consists of musicians, which got the passion to play together and to record a CD, independently of the current musical career or economic restrictions, which you will always face with such a project. The core of the band beside of me is Mario le Mole (Mind Odyssey) and the drummers Max Bendel and Chris Rühlmann. The Line-Up is completed by Victor Smolski (Rage, Mind Odyssey), Buzz Dee (Knorkator) and vocalists and musicians, which formerly played in the leading Heavy Metal bands of the old G.D.R. Together with Victor I'm currently I'm playing guitar in MIND ODYSSEY and I produced the last CD "Time to change it". Otherwise I'm mostly working as studio musician and producer. I've been working with Mario le Mole for a long time and together we founded the bands MERLIN and MIND ODYSSEY.
What kind of hopes and expectations do you have for 'Soylent Green'?
Dan - "Soylent Green" is just an album of fans for fans far away from any fixed genre. It puts all together again. We got Thrash-, Hard Rock-, Speed-, Crossover- and Melodic musicians on the album and no one had any "fears" to work with each other. We simply had fun! And nobody thought about to earn money with the album, we just wanted to create good music. We even didn't know if the album will be released ever. …and anyway, everyone worked and did the best. Out intention was only the music, and so it is this enthusiasm and spirit that distinguishes this album. We've set no borders and no limitations, we just worked. And if this can be found by the Heavy Metal fans, if they get involved into the music and finally like and honor it, then the first goal is reached.
If you had to choose one song you feel represents you right now, which song would you choose and why? Personally I would pick "Hands Tied Up", to me the centrepiece on the album.
Dan - Well, I think I'm the wrong person for this question. Every second of the album is my baby, so I'm not able to take one song out and say: "This is the essence of the CD". It's a concept album and so it shouldn't be over after one listening session. So the search for the "hit" or the 3:30min AC/DC song will be wasted time. Of course, every song works as stand-alone track, but only 100% if you listen to the whole album. You will find out why that part is used on this position. It refers to something, which was/will be used formerly/later. Take your time to listen to the whole album to catch the different feelings and moods, anything else won't help you much. You will hear totally other things in the 2nd or 3rd listening session, promised. This album if definitively not made for listening it while washing up.
Additionally I can say.
(Of course "Hands tied up" is a song of which I'm very proud of. On www.pandea-music.de you can take a look under news. Far at the back you can see how Ille, Mario, Sascha and I worked on the song. It developed more and more and some passages were changed by me during the mix. But after this comes with "Final Real", a more "native" song with a drum part, which should be forbidden since 1994 (Grunge-Influences). I don't give a damn; it's just a rock song. Anyway, it's a question of "How you will continue after such a bombast song like "Hands tied up" ". You must you go down, because otherwise it will be hard to keep the functionality of the album).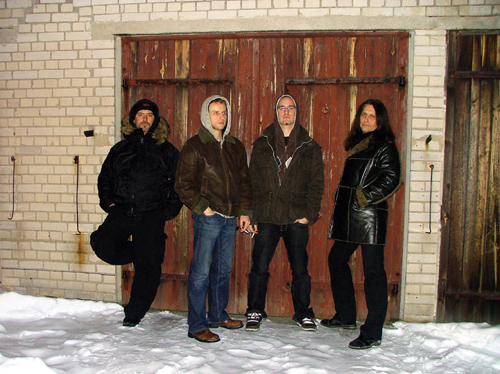 How does the final result compare to the idea you had going into the studio?
Dan - In the preparation of the production I played, programmed or sang all on my own. Every musician got a complete version and a version without my parts, so they had total freedom for their own interpretations. So we were able to integrate Tapping-Bass solo parts and of course parts designed for the vocalists.
Finally the album went out as I wanted it. If you listen to it you can hear that every musician had fun and were able to play or to sing as he wanted to do.
Could you give us a brief run down of the concept behind the album – inspired by the 1973 science fiction movie by the same name starring Charlton Heston?
Dan - Well, what shall I say? I could tell you, that I got a vision of peace all over the world and of the destruction of the environment. The truth is:
1. I didn't want a battle-epos with swords and battlefields.
2. You sit and think of the music which musician is singing what part.
3. You think how the mood of the music can be expressed and supported
4. You got reminded of a movie, which impressed you formerly.
5. You get the movie and say: ok, that's it.
6. You realize later that the theme got connections with current problems
I'm only surprised that in times of fake bacon or cheese, people don't start to rethink. Probably we won't be confronted with such a situation, but following generations. I think that this vision is realistic.
Tell us a bit about the artwork… is that Thorn (Charlton Heston) sailing away from New York?
Dan - The artwork was completely done by Mario le Mole. I was excited about his first sketch, so we kept him. It perfectly catches the mood and the story of the album, the worrying narrowness cause of the overpopulation and the waste, but also the emotional loneliness and the inability to change the system as a single individual.
You are releasing the album on small label; why and do you see this as an advantage?
Dan - Well, don't let us beat around the bush. Every band likes to have a big deal and a lot of money to proceed. Also I don't need to cry about the economic crisis especially on the musical sector, you probably know it better than we do. In the end it worked out the following way:
1. We got several offers of different labels, which don't satisfy us.
2. The philosophy of Pure Steel Records is fitting very well into our concept. The offer was fair.
3. There are not ONLY economists/sellers working at PSR, which decide what album is released, but people which still believe in the music they like.
4. …and there the circle closes to the intention of the CD.
The concept of PSR simply convinced me. We will see how the relationship will proceed in the future.
I despise the big labels, because mostly they are only standing behind you, if they can expect a big profit. Doesn't matter. The spirit of the PANDEA album is clear, fun in making music, music from fans for fans. We financed the album on our own and if the income is sufficient for a new album, then we will do it. I'm already working on new material.
What tasks lay immediately ahead of you – any plans taking the album our on the road, single shows or…?
Dan - Of course we will play live; this is a thing we always wanted. Of course PANDEA is a logistic and financial challenge, because nobody can pay 16 musicians for one evening. So we will work with a "trunk-band". Beside of Mario and me Chris will take on all drum-parts. We will be on tour with a maximum of 3 vocalists, but of course this can be extended if there is a chance to.
2010 has just begun, but which albums impressed you in 2009?
Dan - Hmm, this is hard to answer for me. It's depending on my mood and other things. In the end it isn't important to which music I listen. If somebody likes an album, it's good and I don't think that anyone should influence it with his own meaning. If something is good for your ears - ok, if not it's also ok.
Thank you very much for answering my questions. Do you have any last rants for our readers?
Dan - If you create something like a concept album you always expose to criticism. Not anyone will like it, but it doesn't matter. If you want to be caught by "Soylent Green", then listen to the CD at least 3 times, because I think the album is not revealed completely until then. Have fun while listening.
Interviewed by Kenn Jensen