Mistheria, a big unknown to many, could you please introduce yourself and tell a bit about your background?
Mistheria - Hello to everybody at POM.dk and to you Kenn. I don't know how much my name is known or unknown. It's not my first thought when I think to my career. I'm happy with my activities and with the experiences I had during my life so far. I have a detailed bio on my website that people interested can read. Here I can say that my music background is forged on the Classical music: I graduated as Organist and Composition at Italian Music Conservatory with full marks. I also studied "Experimental Composition" and "Electronic Music". I always played Piano and Keyboards as well and I held many concerts with Piano, Organ, Keyboards as solo artist and session-man over Europe, Asia, USA. I recorded on many albums, among others on the last three solo Rob Rock's albums and the last Bruce Dickinsonís album "Tyranny of Souls", greatly working with that amazing producer/guitarist named Roy Z. My solo discography includes both Metal and Classical/New-Age releases. I work as Piano, Organ, Keyboard and Accordion teacher (Classical and Rock/Metal) and as demonstrator, in the last years for CME, Yamaha and Roland. I like to work in studio as well as sound engineer; in fact my last albums ("Solo Piano" and "Dragon Fire") are produced by me.
"Dragon Fire" is the fist solo album in six years, why did it take so long between albums?

Mistheria - After "Messenger of the Gods" (which has been an album really high-demanding regarding the song writing, recordings and for the huge process to involve and coordinate over 30 musicians) I needed a period to "recharge" myself. Furthermore, on 2007 I released a solo album in the Classical genre, "Solo Piano", published by Italian label Videoradio/RAI Trade. This is part of my official discography and it required also work and time, and I held many "Solo Piano" concerts as well. Then, when I planned to start working on a new album, I've been involved in many jobs (concerts, tours, teaching, demonstrations, productions), personal stuff and also I moved in another country (Zagreb, Croatia). So, I didn't find the right time to concentrate and work on new material till January 2009 when I started writing the material for "Dragon Fire".

What kind of hopes and expectations do you have for "Dragon Fire"?

Mistheria - Well, nothing different from that any artist wish for a new album: well appreciated, likeable, that carries emotions to listeners and gives the chance to have some concerts, and add some new fans that are always important for an artist's career.

What is the biggest difference between this album and its predecessor "Messenger of the Gods"?

Mistheria - "MOTG" has been a real and tight Prog-Metal album, some songs such as "Dynasty of Death" and the long instrumental suite "Messenger of the Gods" give the right vision of that album. "Dragon Fire" is a Metal, powerful, straight and heavy album with high-impact songs, where I concentrated much more on cleaner arrangements and strong melodies. Another difference concerns the line-up that I wanted smaller close to a standard band, first of all regarding the rhythmic section (Drums and Bass) for which I required only two musicians (correspondingly John Macaluso and Alberto Rigoni) to give the right, defined and equal sound all over the album. Last but not least, the production is different. "Dragon Fire" is a 100% "Mistheria production", including editing, mixing and mastering.

If you were to single out one song from the album that is a favourite which one would it be and why?

Mistheria - Ops... this is one of the most difficult questions! All songs featured on "Dragon Fire" are my favourites ... to mention one ... let me think ... well, the title-track "Dragon Fire" because it's a song for which I wrote music, melodies and lyrics, it's the opening song and it's really a furious impact with the album with two "dueling" singers (John West and Titta Tani). This song well represents the album and my idea of a Metal song today, moreover John and Titta brought an astonishing performance ... I totally love it! But, I want also to mention that masterwork that we've written together with my great long-time friend and stunning singer Rob Rock. The song "Lies and Deception" is a vocal work of genius!

How does the final result compare to the idea you had going into the studio?

Mistheria - Better and better! Respect to the demo versions (I do demo of all songs during song writing, arrangements and before to start recordings) album hugely improved. It's normal when you are working with such awesome musicians. They moved from the demo versions, added their own ideas and feeling, making the album a real one! Singers wrote lyrics and melodies as well (except for a couple songs where I and Ivana Greguric wrote lyrics and/or gave lyrics concepts). I want mention them, one by one, for the amazing and top-quality job they did: John West, Rob Rock, Mark Boals, Titta Tani, Lance King (vocals) - George Bellas, Roger Staffelbach, Emir Hot, Neil Zaza (guitars) - Alberto Rigoni (bass) - John Macaluso (drums). Ivana Greguric (Croatian song writer and keyboardist) wrote a great heavy song for the album (The Beast).

What do you want to express with the artwork?

Mistheria - The fury of a Dragon that represents (1) the title-track meaning and (2) my long-awaited desire to return with a Metal album, after few years. I love Dragons as mythological creature and making a cover and a song about them has been long time in my mind and plans. Dragons for me represent the original power of life on the earth and the original meaning of the world, original meant as true. Instead, we lost these elements which should "drive" our life. We need to do a step-back when those creatures were living and establish again rules on this world that, as humans, we are destroying. Inside their primitive wildness, Dragons knew perfectly the life's rules. We don't know them anymore. This is the problem as humans. The song, in fact, talks about the "goodness" and the "badness", from different point of views, and both scream and claim their right reasons, metaphorically representative of the today's world confusion.

Mistheria, clearly your artist name, any cool story behind your choice...?

Mistheria - Some years ago (1996/1997) I created a multi-art show mixing music, poems, dance and video graphics. It was named "Metamorphosis" first, and then "Imperator". I held many shows, it was based on my songs (theatre/soundtrack style) so, to give the right atmosphere to the show, I thought to use a personage name, as happen in the theatre or movies. I was as an actor in my show, between other artistic elements above mentioned. I was thinking something really unique and "mysterious" as the show character. After few days, consulting dictionaries and some words sounding alike I needed ... Mistheria came in my mind ... the cool story is that, thinking to the graphic representation (logo) of that name, I was thinking to some words starting with M (symmetrical formal) and with a central letter (the H) to split the word perfectly into two parts.
You are releasing this album on the Lion Music label, one of Europe's leading power metal labels, if not the leading one. How did you hook up with them and do you see this as an advantage?
Mistheria - Lion Music is nowadays, in my opinion, the number one Prog/Power-Metal label over Europe for the kind of artists featured and for the number of monthly releases. Lion Music's job is awesome, especially regarding the way they "discover" new artists/bands, activity that it is not find to mention, today with the big music business crisis, for a music label. Lion (in the person of that kind and professional person/guitarist Lars Eric Mattsson) and I knew on 2001 when Lion Music planned a tribute album to Jason Becker (Warmth in the wilderness - v.1); my great friend and guitarist from Ohio (USA) Neil Zaza put us in contact. Lion proposed me to write a song for that album and I happily joined the project and Lion Music. Then, I worked on many other Lion releases and between me and Lars Eric Mattsson has been established a friendly, sincere, respectful and professional relation. I'm really proud of it. Which is the advantage? Working with such kind of person and label as Lars and Lion Music staff, everything is an advantage; the first one is that respect, honesty, and passion make the music coming true!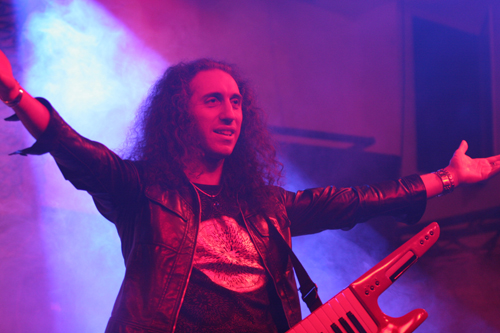 The confines of neo-classical do often seem very limited - do you see that as a disadvantage or a challenge when you compose your music?
Mistheria - Honestly, I don't feel any restrictions in my genre, call it "Neo-Classical" or how you want. If Bach, Mozart, Beethoven, Liszt, Vivaldi, Chopin wrote tons of masterworks that can no-stop play for years, I think I can write some Metal songs (nothing compared to that music which above genius wrote) for 10 lives! Then, I like to mix that "Neo-Classical" knowledge with my experience as musician of 21st century and with any other elements I can add. Usually, "Neo-Classical" is a easy way to name some kind of music that instead, if you look inside it better, reveal a lot of new elements that you simply skip because our ears are much more comfortable with predominant known elements, such as Classical and/or Neo-Classical. "Dragon Fire" songs, for example, feature extra music elements from different genres such as Progressive, Pop, Techno, New-Age; elements hidden in the arrangements, but you can discover them...
What does the words neo-classical metal mean to you?
Mistheria - Music based on Classical basic harmony mixed with Metal solid rhythmic and some extra elements based on the today music knowledge.
Name five albums that have made a big impact on todayís scene and you personally...
Mistheria -
1. The Four Seasons (Vivaldi)
2. Trilogy (Y. Malmsteen)
3. Images and Words (Dream Theater)
4. Odyssey (Symphony X)
5. Accident of Birth (B. Dickinson).
Mistheria isn't taking all of your time (I assume), what other project are you spending your time on?
Mistheria - As I said before, Mistheria's Classical (bright :) side works on the Classical/Ambience releases, the new album of this series is scheduled for early 2011, I need only to mix and master it. Then, I work as session man for other artists releases. Among my side projects, on 2007 I joined "Angel of Eden", great Metal band leaded by my friend and guitarist Roger Staffelbach. I'm also starting two new interesting bands/projects with awesome Italian singer Titta Tani (ex-DGM and Astra, Ashent) and with prized guitarist Emir Hot. I've a project on with my girlfriend Ivana Greguric, project secret for now but you will know soon about it ... ;) Moreover, Iíve some musicians I collaborate with constantly, such as Neil Zaza (both live and studio, I'm just recording some keyboards for his new album), John Macaluso, Rob Rock among others.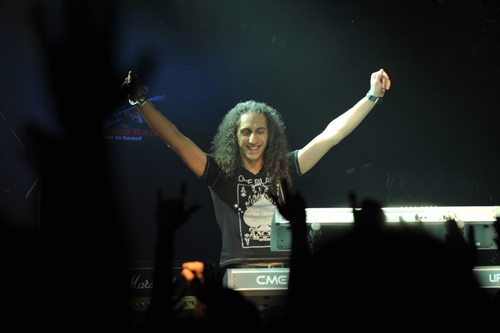 Thank you very much for answering my questions. Do you have any last rants for our readers?
Mistheria - I'd like to know how much POM readers like "Dragon Fire"! I'll appreciate any comment and suggestions ... yes, suggestions, because often, listeners give some useful thoughts that no one could think about! Just drop me an email. "Dragon Fire", in some way and in some elements, takes advantage of some critics I got. By the way, I hope POM readers can enjoy the album and, of course, I prefer more congratulations than bad critics... but this is normal for an artist, it isn't? -:)
Thanks Kenn for this interesting interview with really motivated questions. Hope we'll talk soon, anytime you feel it and for a new album... before than 6 years... ;)
Sincerely,
Mistheria
www.mistheria.com
www.mistheriakademy.net

Interviewed by Kenn Jensen