IN THE THICK OF IT
Like a song in continuous progress, Jo Burt's life has always been pervaded by music. Indeed it seemed natural to express himself thus - it didn't matter whether he was playing bass, lead guitar, singing or even writing songs. Several reader of this webzine might hesitate to place him in context of one particular band but Jo was in the midst of Rock music whenever it mattered most.
Reading out Jo's curriculum is indeed like reading the index of a Rock/Contemporary Music encyclopaedia. Sure enough he has recorded albums and / or toured with Freddie Mercury and Roger Taylor (both of Queen fame), Bob Geldof, Black Sabbath, Bryan Adams, Elton John... hell, he even did a stint playing with 1980s Pop sensation Kim Wilde.
Despite its relative depth, when I look back at the exclusive interview that follows (before this, Jo hasn't given an interview for many years), several questions spring to mind that I regret not having asked my interviewee. I wish, for example, that I had asked him to enlighten me more about Virginia Wolf, the band that, besides Jo on bass guitar, had also featured Jason Bonham on drums. (Jason, of course, being the son of the late great Led Zeppelin drummer.) I regret not having asked Jo to elaborate more about Sector 27, the seminal band he played with for a number of years. But then again, it would probably take a whole book to cover all angles of his life with reasonable comprehensiveness.
Anyway, without more ado, I hope you enjoy reading the interview as much as I enjoyed doing it.
MUSICAL CRESCENDO
After his birth sometime in the late 1950s, getting involved in music was not an option for the young Jo Burt. Father, mother, aunt, cousins... .everyone who was in direct contact with him was also actively involved in music. This is a legacy Jo seems quite proud to promulgate.
Chris: I'd like to go back in time and ask some questions about your musical upbringing...
Jo: OK, provided I can remember that far!
C: Jo, as a young boy, what were your musical ambitions? What were you going through?
J: I think it was to be on a stage, just like my parents. My family was a showbiz family and I had often gone along with them when they toured. I remember being in the tour buses...in the 1950s 'variety' shows were the big thing and we used to spend several summers by the seaside where these shows were held.
My dad was a really good piano player and he played with some of the big bands of the time. My aunt did "Crackerjack" which was the only TV pop-show in the 1960s. It was a bizarre children's show but they had lots of American Rock artists - all people who'd be touring would come along and do that TV show. So I got to see all those bands when I was really quite young. It was all very exciting to me - I was only about 8 years old.
Then of course The Beatles came along and that was it. McCartney was their singing bass player and I thought that's just what I wanted to do and I used to mime his bass playing.
Writing songs came a bit later...a lot later, actually. You know, there's a difference between performing and writing your own songs and performing them. There were people who performed songs, such as Frank Sinatra who didn't write any of his songs. Then there was Bob Dylan who wrote his own songs. That was the turning point, when the angry poet got up and started to try to change the world...
CHANGING THE WORLD IN THE 1980s
As the 1970s gave way to the 1980s Jo enjoyed chart success as the bass guitarist of the Tom Robinson Band. This was eclipsed by the success of Sector 27 - the band Tom Robinson and Jo formed from the ashes of the TRB. For Jo, however, the 1980 will probably be remembered for the amount of musicians he played with. Amongst them was Bob Geldof, who at that time had just put together that monumental charity event that was Live Aid.
C: How did you get to know Bob Geldof?
J: [pauses, while appearing to mentally make some connections...] These things all tend to run concurrently...well, previous to that [meeting Bob] I had been working with people like Freddie Mercury and Elton John who of course were all involved in the Live Aid scenario. After Live Aid, Bob put this band together and had a promotional tour to do in Europe and they were looking for a bass player. I think that as a result of my involvement in that event my name just popped up.
C: So during Live Aid (1985) you were collaborating with Elton John and Freddie Mercury?
J: No - I had been working with Freddie Mercury and touring with Elton and my manager used to manage both of them. My manager was a chap called John Reid who used to manage lots of artists. I was kind of in the same picture and was simply available whereas, maybe, somebody else wasn't. I hadn't know Bob before, so he didn't pick me out, telling me "I want you to be my bass player" or anything. It was just like a gig that had come up and that I was happy to do.
C: Do you think Bob Geldof fostered a change in the general public's perception towards Rock music?
J: I think so. Those were good times. I wasn't personally involved in Live Aid from the forefront - although I'd have liked to be - but I think that the people involved genuinely thought they could make a difference, much like in the Woodstock days. Now whether or not that did happen is another thing because subsequent to that, a lot more similar events did happen but it seemed to me that there might have been more promotion for the artists than the good causes. After Live Aid everybody wanted to jump on the bandwagon.
I certainly do believe in Bob's noble intentions with Live Aid and also the more recent Live 8. I'm sure he would say it's an ongoing situation where money has to be channelled to the people that are supposed to be helped rather than going to governments who would subsequently spend it elsewhere.
C: ...squandering it...
J: ...or putting it in their pockets.
C: You mentioned touring with Elton John... could you tell me more about that?
J: We [Sector 27] did a European tour with him. It was funny because he didn't normally have support bands - he has such a long show anyway so our spot was only about half an hour.
We were leaving after one show and driving to the next gig. One day he told us to go over to the hotel and have a get-together. We told him actually we can't because we have to leave every night to keep up with the tour. He told us: "oh don't worry about that - come on my plane." So we spent the rest of that tour on his private plane travelling with him. It was like a 100-seater jet reduced to 30 seats and a bedroom. With us of course we took all our entourage. There were no customs to go through despite there not being the European Union - we flew across borders, jumped into limousines and got the police to escort us to the gigs.
It was great fun. Apart from gigs like Paris where they didn't like us at all and threw everything at us for half an hour in that arena.
C: What was your reaction to that?
J: Oh, you've just got to keep going. I remember this bottle of Evian flew right past my ear on stage. The same thing happened to Jools Holland - he was with us on the Police tour doing a solo singer-songwriter kind of set on his barrel organ. And he said: "Ah, thanks very much. Drink for the singer." And I use exactly that same attitude.
[Jo's career showed no signs of relenting as the 1990s approached. When celebrated singer Freddie Mercury decided to put aside his involvement with Queen for a solo foray, Jo was asked to record the bass parts to a handful of Freddie's songs. I ask him how the relationship between him and Freddie came about...]
J: I had been working with Tom Robinson, touring solidly with him for almost 2 years. Then Tom left Sector 27 because he became ill... besides 1 or 2 other problems... and I was left with 3 guys with whom I had spent an awful lot of time together by then. We felt we still had something valuable to offer so I approached John Reid in a club one night and told him I was looking for representation. He told me to go and see him in his office, which was what I did, and he then took on a management role - John had already been managing Queen in the early days and at that time was managing Elton John.
However I had first met Freddie Mercury through this chap called Eric... his full name escapes me now... [Note: his name was Eric Hall] ...who was involved in the publishing side of the music business and who subsequently became a sort of football pundit, a football agent. He was famous for his catchphrase: "Monster, monster". Eric said that he was going to make me a star and all that kind of stuff. He introduced me to this woman, called Mary Austin, who was Freddie's ex and was still very much of a fan.
As a result I sort of joined that family, really. That's how I got to know Freddie. I also worked with Roger Taylor - the drummer of Queen - on a project called Virginia Wolf.
[Roger had in fact produced the eponymous debut album of Virginia Wolf. As much underrated as they were talented, the band churned quality songs in the vein of bands such as Foreigner and Mott The Hoople. Interestingly the 2nd, and final, album of Virginia Wolf was produced by Kevin Elson, who a few months before that had produced Europe's hugely successful "The Final Countdown".
[Virginia Wolf had, besides Jo on bass, Kevin Fitzpatrick on keyboards (Lionheart), Chris Ousey on vocals (Monroe, The Distance, Heartland, Bonham) and Jason Bonham on drums (Led Zeppelin, Foreigner, UFO, Bonham, et al).]
C: Did the recording you did with Roger Taylor happen before you worked with Freddie Mercury?
J: A bit after that, actually. I had already known Roger when working on an album with Rick Parfitt, of Status Quo.
C: You had worked with so many musicians but didn't you even think of forming your own band?
J: I did do that - Sector 27 was very much my project with Tom Robinson. It was at that point that I had started writing my own songs. During the 2 years I had spent with the Tom Robinson Band and subsequently another 3 years with Sector 27, I had been writing and playing my tunes. It was only when the Sector 27 thing disbanded that the contacts that I had made during that period started to come through and I started playing with a lot of people.
C: What was it like to play with Freddie?
J: It was a seminal point in my life. He was such a creative person. Since I was kind of in the family, we used to have lunch together and he used to have a piano in the place where he lived [in London] on which he sometimes played some tunes that he had written. Sometimes, in private, he would also play me rough mixes of the Queen stuff and other work he used to do, such as with Michael Jackson.
[Surprisingly, the collaboration between Freddie Mercury and Michael Jackson is a lesser celebrated aspect of both artistes' careers. Freddie and Michael got together in the early 1980s, at a time when the schedule of both singers, especially Michael's, made the collaboration possible. The subsequent explosion of Michael's career prevented the collaboration of the two singers to fully mature. I ask Jo what he knows of any recordings that could have emerged from Freddie's visit's to Michael Jackson's Los Angeles home.]
J: Freddie had given me a cassette tape of him sitting at the piano with Michael Jackson singing and playing 'Who Wants To Live Forever'. Nothing came of those sessions, though.
So yeah, I think there were a couple of tracks recorded and it was just Freddie sitting at the upright piano in Michael's house with the tape machine going. I still have that tape somewhere but what happened to the master recordings or if they were ever completed, I don't know.
C: What do you remember of the recording sessions you did with Freddie?
J: We recorded the album in Munich at Musicland [with producer Reinhold Mack, who also engineered albums for Bonfire, Black Sabbath, Queen, and Extreme, amongst others]. Freddie had been writing his own songs in London but he was living in Germany at the time. He spent a year or two living over there. So he had a collection of songs written and I wasn't writing them with him but he called me because he knew I played fretless bass. So I went over there and I think I did about 4 tracks for the "Mr Bad Guy" album.
["Mr Bad Guy" was Freddie Mercury's debut solo album, released in 1985. And while the 1980s marched on, more than ever before Jo kept giving in to his instincts as an artist to explore different forms of musical expressions. His next collaboration, however, would be significantly different from what he had previously done... some would say 'darker' too...]
THE BLACK SABBATH CHAPTER
Out of all the bands he played with, Jo is often remembered for being Black Sabbath's bass guitarist. This is probably due to the undying loyalty of the band's fanbase. In reality, Jo was with the band only briefly and never recorded anything with them. Curiously, in 1992 Black Sabbath would eventually record their "Dehumanizer" album in the same studio where Freddie's "Mr Bad Guy" was done.
C: What attracted you to the Black Sabbath job?
J: It was the fame and fortune really. Again that was something that just popped up. Their regular, American, bass player basically didn't turn up for the tour that they were due to do in Europe in support of the "Eternal Idol" album. They needed somebody to step in at very short notice. My manager at the time - he was managing Virginia Wolf and was in that circle of bands that also included Ian Gillan. And my name was put forward. They took me on and I think I had about a week's rehearsals to learn the songs, to learn that ridiculous set.
C: Why 'ridiculous'?
J: Because it was very bass-lead. Sabbath riffs are all bass-lead. Songs like 'Heaven and Hell' and 'Paranoid' are Punkish in many ways but even if you just think of the intro riff to 'Sabbath Bloody Sabbath' there's a lot of bass in the songs.
I remember the very first gig... once the smoke had cleared, the guys in the audience were mouthing the bass lines - I think they knew them even better than I did.
[...Jo sings a cappella the riff to 'Sabbath Bloody Sabbath'….]
J: ...and they'd all be singing that riff.
C: It must have been a great feeling having an arena sing along to your bass lines...
J: Yeah, great... and funny.
C: What was it like to play with the guys of Black Sabbath?
J: Good. They were funny guys, with a Brummie sense of humour. Tony Iommi especially, was a really funny guy.
C: I had spent an entire week in the company of Black Sabbath several years ago... I'd have thought that keyboardist Geoff Nicholls was the official clown of the band...
J: Yeah, he was. Probably he could afford to, because he couldn't be seen for most of the time.
[Geoff Nicholls was never part of Black Sabbath's official line-up but he had actually played with Black Sabbath for around 25 years after having joined the band in 1979. During that period he played on most, if not all, of Black Sabbath's recordings and during gigs he generally performed out of sight of the audience.]
J: I do remember one incident in particular. Probably because I was so wrapped up in my own gig, I had forgotten about Tony's fingers.
[Tony Iommi lost the tips of three of his right-hand fingers in a work-related accident before Black Sabbath were even formed. One consequence of this was that Tony began down-tuning his guitars so as to ease the pressure on his fingers. Some observers argue that the aforementioned accident in fact directly contributed to the 'Doomy' sound that Black Sabbath thereafter became famous for.]
J: We [Tony and I] used to meet in the middle of the stage and do that cross-guitars kind of thing, Tony being left-handed. One night, in the middle of a show, he leant towards me removed the tops of his three fingers. My legs just turned into jelly. One Italian photographer actually managed to catch that moment. They were always playing tricks. Of course then it all came back to me and I remembered about his fingers - he used to keep them in a tobacco tin and glue them on before he played.
C: I had always thought they were permanently fixed onto his hand.
J: Not when I saw them, they weren't. [Laughs] On one other occasion we were playing in Germany and it happened to be my birthday. At one point I was at the front of the stage but what I didn't realise was that behind me, in monk's habits, were all the members of the crew. And as I turned round they plastered me with a birthday cake.
So yeah, it was a fun time but also kind of crazy though because things weren't going very well for them at the time. Lots of problems with the management running off with the money and similar kinds of issues.
C: It had been no secret that the band was having problems at that time. Do you think that it was all down to the 'administrative' issues that you allude to?
J: I wasn't really aware. I mean I did know, for example, that one of the shows in Italy got sold twice. Obviously, for that show the promoter sold double the tickets. There was some really funny stuff going on.
It all ended rather abruptly. The tour finished earlier than it should have. At the time there was also a lot of talk about Geezer Butler coming back and the band reforming. It was kind of an odd time to be in the band.
Another interesting thing concerned Terry Chimes who was then Black Sabbath's drummer. Terry and I were both Punk kids really, ever since the 'Rock Against Racism' days. Remember - this is the guy who played in The Clash.
C: Sector 27, your ex-band, was very much influenced by Punk...
J: That's right. So both Terry and myself came out of that scene and probably we had even played on the same stage before. And there we were, the two of us playing in the same Metal band. It was kind of funny.
C: So had the reasons for you having had such a short tenure with Black Sabbath to do with musical differences?
J: No, not at all. In fact I was enjoying it and I would have hung on in there if it were for me. But there were things going on that were beyond my control. I think the fact that Cozy [Powell] was later brought in had to do with profile, if you know what I mean.
C: Yes, I think I do. Cozy enjoyed a reputation as a highly regarded drummer. So if there hadn't been all those problems going on, you would have continued to be part of Black Sabbath...
J: I think so. After the end of the tour I went to Tony [Iommi's] house, when they were trying to sort things out and put things back on track. I was scarcely involved but [I knew that] there were things going on. That tour finished so suddenly - I mean the band only meant to take a break from the tour but it didn't even resume after that.
C: The word 'pioneers' is often used to describe the effect Black Sabbath had on contemporary music. When you had played with the band, did you get the feeling that this was really the case?
J: Of course I was aware that these guys were there since the beginning of Metal - actually they started Metal. In many ways that experience was similar to when I played with Freddie Mercury and the guys from Queen in that I had a great deal of respect for the band. I was also aware that they [Black Sabbath] too saw me as coming from a different era because they were always joking about the fact that I didn't stand still and had a different way of presenting myself.
C: Much of Black Sabbath's repertoire has transcended the passing of time. When writing songs for your own band, do you ever wonder how relevant they will be for future generations?
J: Sabbath was more like a movement. The songs were loosely tied in on an idea about darkness - a bit like the Blues. If somebody is feeling bad, then it makes you, the listener, feel better because suddenly you're not the only one to feel like that. And I think that that's the strength of Sabbath's songs. Myself, I tend to write stories.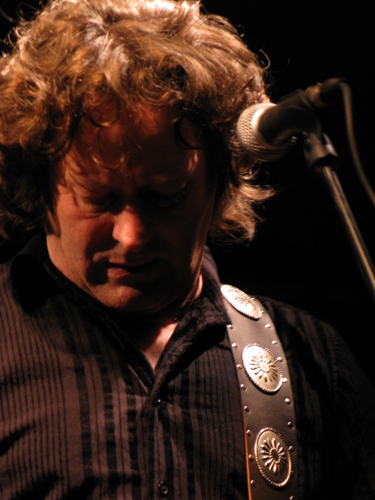 JO BURT: STORYTELLER AND TOURING MUSICIAN
The personification of himself as a storyteller isn't casual - Jo's willingness to share anecdotes in this interview might be a testament to that. Certainly, his extensive experience on the road is a rich source of amusing stories.
Jo is currently devoting his energies to his own band, aptly called The Jo Burt Experience. Before this interview took place I had a couple of opportunities to witness his band perform. It seemed to me that the band's style was a sort of stripped-down version of his Virginia Wolf band with the repertoire being pretty much song-based. The introspection of these songs arouses my curiosity and I ask Jo about his inspiration behind a selection of them, starting with one called 'Deborah'...
C: 'Deborah' is a simple but very moving song. Are its lyrics inspired by personal experiences?
J: They are actually. A lot of people mention that song and I think it is because the idea of the song is that the news headlines would generally describe her as a stripper and it's immediately a put-down. In fact there's more to her. Besides, [she's a stripper...] so what!
I think she had a big impact on me, seeing somebody who's having a hard time, turning it around and then just as she's got it turned around it's all taken away. It happens to a lot of people and I think the media has a way of dismissing things for the sake of headlines.
C: I think that is particularly so in England, where newspapers are obsessed with gossip, rather than news.
J: [laughs sarcastically] And that's why we're aiming at Europe, because somehow there just isn't that angst.
[In fact only a couple of days before this interview took place Jo had just returned from a gig in Belgium with The Jo Burt Experience. Belgium seems to have fascinated him and it would be no surprise should his band return there this summer.]
C: Another song of yours I that liked is 'Arabesque' - how did that song come to be?
J: There's an interesting background to that song. Basically it's a love song. I wanted to write something that was an intimate kind of thing and I came up with the word 'arabesque'. In fact my mother was a ballet dancer and as a typical boy I didn't want to have anything to do with ballet. Then, while working with Freddie my interest grew. He had a box at the Royal Opera House, which was where he had met Peter Phillips, who was the contact between him and soprano Montserrat Caballé. He had put them together to do the 'Barcelona' song.
So Freddie and myself used to go to the ballet and while I loved the music more than anything, I also noticed I could see the line of the dances that people were talking about. Incidentally I think that of all the things that Freddie ever did, what people noticed the least is his contribution to that connection between Opera and Popular Music. Before he did that, it wasn't there and now everybody wants to, say, sing with the 3 tenors and there's this massive crossover between the two genres.
Anyway, what I liked about 'Arabesque' is that it's descriptive in many terms - an 'arabesque' is a dancing position and it's also descriptive of ornamentation as well as a description of Arabs. So I had these 3 connotations and wrote my song around them. "My love is arabesque"... sort of a nice way to say my love is intertwined.
C: Recently, after checking out your website, I inadvertently left my PC's monitor displaying the lyrics to 'Arabesque'. When my work colleague saw those lyrics, he commented that those were very poetic verses.
J: Yeah, like: "Your lips hold the promise of an oriental night"... it's all that kind of stuff, you know. Without being over-clever it's supposed to be a love song, really.
C: Jo, what music do you like listening to these days?
J: I don't really listen to a great deal, these days. I'm concentrating on taking my influences and being something other than what somebody else is. Having said that, there are some bands that I like in the old tradition, whether it's Green Day or... [pauses to think]... there's this band that my former students were always wanting to play... it's a huge Metal band...
[In an attempt to jog his memory, Jo hums the riff of one of the band's songs. I immediately recognise it as 'Enter Sandman'.]
C: Metallica!
J: That's it. That's a Heavy Metal group which I like. I quite like Rock music to be Rock music. I can't remember so much the names now but there are other bands I like. And also I have a 19-year old son who's into Rock music and he keeps me updated on what'ss going on musically. He works as a technician now, doing lightings and stuff. He'll be touring very soon but he's learnt a lot by doing lights for my bands.
C: I believe that in the late 1970s you had done a series of gigs in the States. What do you recall of that experience?
J: Yes, in the late 1970s. My first professional gig, my gig which I got paid properly for, was with The Troggs. I don't know what you know of that time but in 1967, they had to leave America because they had basically upset the mafia. They were told they were never to play in America again.
Sure enough they never went back... until I joined them. So when I joined them in 1978, when Punk was really kicking off, we went out to America. When I went with them, they hadn't been there for 10 years. 'Wild Thing' was a huge hit for Jimi Hendrix.
[The song 'Wild Thing', originally written by Chip Taylor, the uncle of actress Angelina Jolie, was first made famous when The Troggs recorded it in 1965. Subsequently, several bands released their own versions of it, probably the most notable being Jimi Hendrix's live version of the song.]
J: So we arrived in New York and there were banners across Park Avenue and we did about 8 nights in one of the clubs there. Everybody was there - [Mick] Jagger, all the Punks, the [Sex] Pistols... Madonna was a waitress there. Max's Kansas City was the club [we played in] - that and CBGB's were the two big New York clubs then. And we had bodyguards and stretch limousines and for me, being the first time out there it was bewildering. Reg [Presley - The Troggs' vocalist & songwriter] was very much the godfather of Punk and treated us so. Not long ago R.E.M. recorded with him.
[In 1991, R.E.M. and The Troggs briefly collaborated with each other. This collaboration arose from R.E.M.'s cover of 'Love Is All Around', originally written by Reg Presley for The Troggs.]
J: After that, we kept going back to play and even recorded an album there. Then on one occasion I ran into Tom Robinson who was there with his band. Subsequently I jumped ship because The Troggs wasn't really what I had wanted to do, despite the guys being sweet as they were and the band having all that history behind it. In fact it was like a Rock 'N' Roll college education for me.
With Tom Robinson I went back to the States and we opened for The Police on our first stadium tour since we had the same record label. We played all across the West Coast.
C: What do you remember of that tour?
J: It was fantastic but very hard work. One of the things I had learnt was that bands could be huge in the big cities but as soon as you go across the Mid-West [of the U.S.A.], as they always say: "Unless you break the Mid-West, you don't really know what 'big' is."
So with Sector 27 we were playing Madison Square Garden one night and on the way to Los Angeles we stopped off in St. Louis. And it's all going crazy with the 'paparazzi' and the whole business. That's a very glamorous gig - it's not like Wembley, here in the UK, where people just trudge along - everybody's there: the Spielbergs, the Lennons... everybody hangs out there.
The next day we flew to St. Louis to a 2000-seater Hammersmith-Odeon-type-of-place and there was nobody there. I mean it was full but there was no press, no newspapers, not even the management was there. It was just the 2 bands - Sting, Copeland and Summers and ourselves.
Then we went over to Los Angeles and suddenly the whole thing picks up again. And I was thinking that it must be difficult for somebody like them to have all that adulation which suddenly stops at the next gig. We were all mates together because there was nobody in the way, no managers and stuff.
In between those gigs we were doing club shows. So we were doing the L.A. sports arenas and a week later we'd play venues like the Whiskey. It was a good way of working.
C: If I remember well, before you went to Belgium last week you had mentioned to me that you'd be joining The Sweet.
J: No, that was a confusion in the language. I played with The Sweet years ago. We had gone to Scandinavia. Again, that was a replacement for somebody who was leaving the band, I think. I knew the drummer for many years. Yeah, that was good too. They have a show full of hits. Amazing.
C: Of all the bands you've played with, which do you think was the most challenging?
J: Probably the Sabbath gig because it was at such a short notice. So many riffs to learn and so little time to do so. Too many women too but that...
[Jo's voice trails off but his grin suggests that that last reference wasn't a challenge he really felt coerced to rise up to!]
J: And also they had no leeway about how the songs were played. There's no interpretation, as such.
C: Jo, would you like to be remembered as a guitarist, bassist or songwriter?
J: I suppose as a bass player.
C: What do you hope to achieve with your current band, the Jo Burt Experience?
J: I'm hoping it would break into Europe. That's the next thing we're working on. We've written a bunch of stuff. It's a song thing. What I'd really like to do is mix up the instruments and stuff which will also allow me to play bass and guitar depending on circumstance. The touring and recording is so different now.
C: Another major difference from the 1970s and 1980s is the Internet and the availability of technology, both of which empower anyone to record an album.
J: That's right. In fact a lot of stuff of mine which is available on the internet I think of as incomplete because it hasn't been recorded properly. But actually I'm not sure what 'recorded properly' means any more.
C: Today the focus is on touring
J: And I have to say that that's my strong point. My whole life has been touring really. Touring, recording, touring, recording... that's still the way to go. Now that my kids have grown up I'm able to do that better. And hopefully there are people out there who want to book or come and see the band.
C: What frustrates you most as a musician?
J: [laughs] I think the celebration of mediocrity in the papers. That and probably the control that someone like Simon Cowell has put on music. What I would like to see is a competition for songwriters. If they do have to put on a show like that, why do they have to regurgitate all the old stuff in order to find a singing star? Of course there are other things that frustrate me that have nothing to do with music, such as politicians.
C: Despite the control of a handful of individuals on a musician's career, today, with the internet, it's easier to achieve success.
J: Absolutely. That's the best thing that ever happened. Any record contract that I've ever had, however many thousands of records I have sold, I never saw a penny of it because it was such a poor deal. And everybody does have poor deals. And now record companies are taking into merchandising. It's all lunacy. At least now I can make my own CDs and sell them at my gigs and online and probably make more money that way. That's really the plan - to embrace technology now because it gives you more control.
C: One last question... Jo, do you feel underrated as a musician?
J: By whom? [Looks at me while grinning sarcastically, then continues...] No, I...
[...suddenly my tape recorder stops...]
J: Saved by the bell!
[You can say that that was a dramatic stop to a dramatic interview! Check out the official website of The Jo Burt Experience (see below) for up-to-date info on his gigs and recordings.]
Copyright Chris Galea (2010)
Related websites:
Useful links:
Virginia Wolf:
http://www.youtube.com/watch?v=S1IMk7_sDTg
http://www.youtube.com/watch?v=n_egvn_NXXg&feature=related
Black Sabbath (live recording with Jo on bass guitar):