Ex-Scorpions drummer Herman Rarebell, affectionately known as Herman Ze German, just released his new solo album, Take is as it Comes. On a three week U.S. promotional tour to promote the new album, Herman phoned me from Chicago to talk about the early days with the Scorpions, his life philosophy and the new album.
"Take it as it Comes" is such a catchy song. Is the title a philosophy you've lived by all your life?
Well as you know, my knew album is called Take it as it Comes, and there's actually a really good reason. Because I really believe you have to take it as it comes, otherwise you could driven completely crazy now days in this world. I've lived it all my life, but even now becoming older, even more so. There's plenty of my friends who were getting so angry about things that they were having heart attacks. And I'm not joking. You have to take it as it comes because every day could literally be your last day. Live everyday, live it full and take it as it comes.
During your time with the Scorpions you've experience some of the best of rock 'n' roll, did you just need a different avenue with your solo stuff? What was the reason for leaving the Scorpions in the first place?
After being nearly 20 years with them, I felt that in the late '90s, about 95 or 96, that the main air was out of the creativity thing. At the same time Prince Albert of Monaco came along said we should make a record company called Monaco Records. So I thought it was a great idea and we did this for five years. So all those reasons happened. But look at it like this, the Scorpions are doing their farewell tour right now, so even if I wouldn't have left, now, it would have been the end anyway. So I would have not been able to continue, but I love to continue because I love to play music.
You're credited with writing such hits as "Rock You Like A Hurricane" and "Bad Boys Running Wild" and many more, as well as singing backing vocals. A drummer is usually in the background, but you had a prominent roll in the Scorpions. As you've proven, you're more than just a drummer.
I had very good knowledge for writing lyrics and when I started my first song with the Scorpions, "He's A Woman, She's A Man," then everybody came to me and thought they were great lyrics and wanted me to write some more. At the time my English was the best in the band because I was the only one living in England for almost six years, where I learned the language. Of course that helped with the lyrics, so that's why I wrote for so many years. "Blackout," "Make it Real," "Dynamite," "Arizona," "You Give Me All I Need," "Passion Rules the Game," "Another Piece of Meat," there's an endless list. I think the combination of Klaus, Rudolph and myself, the three writers, worked very good as you can see all the years we had success in the '80s.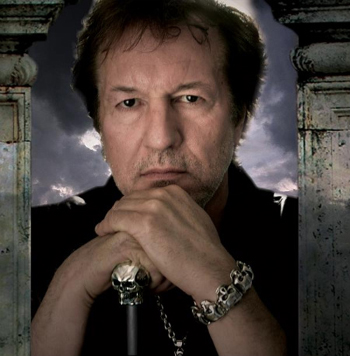 You already recorded "Wipeout" on 1984's Herman Ze German and Friends album, which by the way, I actually own the original vinyl release. But what made you decide to redo it?
It's not a redo. The version on the first Herman Ze German and Friends from 1984, this was a version which was released as a single as well as the video. And the version I found in my treasure box is a longer version with a really wild drum solo on the end, and a guitar solo. And I always found that version better, but at the time the record company who cut the record didn't want a long song or a wild solo and wanted to put the song on the radio and wanted a single version, so I did it. But this version on the new album is out of my treasure box and is a complete new one.
Your new version of "Rock You like A Hurricane" is really cool, adventurous to say the least, but what made you decide to record it in this way?
First of all, being a creator of the song, as well as Klaus and Rudolph, I wanted to make a 2010 version, a modern version. What influenced was the modern word with talking, for example Rammstein from Germany. This time I'm going to talk it and write an extra verse, with brand new words.
What do you think of the Scorpions' "Sting in the Tail?"
I think it's the right album and the right direction, because me and Rudy talked about it, and Matthias. I wasn't too crazy about albums "Pure Instinct" or "Eye II Eye." It was also the reason why I left because I couldn't agree anymore with the direction the band took at that time. But I think this new album is very good and I think it has the continuation of "Blackout" or "Love at First Sting."
James Kottak from Kingdom Come took over for you after you left the Scorpions, do you consider him a peer or just a fill in? He's been in the band ever since you left, so I guess you have to respect him for carrying the torch for you.
Don't forget that it was me who phoned up James Kottak and asked if he wanted a job because I was going to leave the band. So it was me putting him into the band... introducing him to the band. And I'm very happy about that position because he was the only drummer at the time I could see taking my place... he has a similar style. Of course, nobody can take over your personality. Every drummer has their own personality. For example, Charlie Watts of the Rolling Stones, if you would put me tomorrow in that band, I would not be able to replace him because he has his own personality, and everybody knows if you lose Charlie Watts. And I think I have my personality, Herman Ze German Rarebell, and I think James has his own personality because he's an excellent drummer.
Any chance you'll be on one of the dates as a guest for the Scorpions' "retirement" tour?
Absolutely. The plan right now is to come back in 2011 and do some big outdoor shows where I will be special guest together with Michael Schenker and Uli Jon Roth. We did this already before in Europe and at Wacken. We did it last year in Greece and it was really great. It is of course very straining on Klaus to do a nearly 3 hour show, very hard for his voice. But the fans loved it. They could go through the whole history of the Scorpions. When Uli was still in the band and the Michael Schenker appearance on my song "Another Piece of Meat" he played also on "Coast to Coast" and "Lovedrive" and then you can see the complete years when I was in the band. I think for a fan, this is a great event to have.
What's next for Herman Ze German?
Well, he's going to do his promotion tour and then go back and rehearse with my band and my plan is to come back here to tour in the fall. So I'll probably be back in America in October or November, so watch out for my band, Herman Ze German and Friends.
Any last words or comments?
I'd like to say thank you to all the fans who've been so faithful to me and the band, and I really love you and I look forward to playing for you live.