Anthriel, a new band to me and quite possible to most our readers as well - could you please introduce yourself and tell a bit about your background?
Timo/Anthriel - We are from Finland, north Europe. We have played together with Jari (Jari Kuokkanen - drums) and Antti (Antti Hakulinen - keyboards) over a ten years in a several cover projects and bands. At the same time we have done our own music as a band with several line up's. We found Klasu (Klaus Wirzenius) for Bass in a late 2006 and Swaan (Simo Silvan) joined the band in 2008.
What kind of hopes and expectations do you have for 'The Pathway'?
Timo / Anthriel - I personally hope that people would take the time to really listen the whole album. The more you listen to "The Pathway" the more you get out of it. What comes to the lyrical theme, I'm sure it is easily related to anyone's life; seeking the balance in life. There is a lot of digging in "The Pathway" and I hope the listeners are ready and willing to dig deep ;)
How does the final result compare to the idea you had going into the studio?
Anthriel - Well we did pretty accurate demo of "The Pathway" that was called "Visions of Inner Light and Deeper Thoughts". That demo was totally edited with it's programmed drums and synths and everything was quickly tuned, timed, copied and pasted together to just to give ourselves a practice reference to the actually album recordings. And of course we used that for promotional meaning as well to give a sample of our music.
Recording the album is a little bit different job, you actually have to record every single note ;) we all had a common opinion of not using so much editing tools that was available to correct material to hasten the completing of the album. That is the reason why it took so much time to complete the album. Of course there was also things like; building our own studio and learn to use the equipment in the middle of a recordings, vocalist changes and running out of budget. At the time most of us earned our living as a live musician so we also had to eat;) And to crown all, the material was mastered at the August 2009, so we (and you;) had to wait pretty long time for a release. Afterwards thinking it was same time the most frustrating and rewarding time in our lives.
The artwork is brilliant, who has done it and what do you want to express with the artwork?
Timo / Anthriel - The artwork is done by Jan Yrlund. He understood immediately what we had in mind and we are totally happy with a final result. There is opposites, symbolism and irony. Lot's of things that I have bump into on our "path".
Like our music and lyrics we want our visual side to give a timeless fantasy kind of feel.
In that way the imagination of a listener gets more room and in my opinion that is the goal of music: to detach from time and space for a moment and dive into the depths of your imagination.
Can you give us a brief introduction on the lyrical concept behind 'The Pathway', inspired by R.A. Salvatore's Forgotten Realms: "The Dark Elf Trilogy"?
Timo / Anthriel - We are huge fans of fantasy books, movies and games and that of course affects to the visual side of Anthriel. The Dark Elf Trilogy is a one of my favourite books of all time. But what comes to the lyrics, The Pathway is totally written from our personal lives individually and as a band. Afterwards the story seems pretty similar to the Dark Elf Trilogy. But we don't want to chew up lyrical theme too much on a behalf of a listener. In that way people get a chance to imagine their own world behind the story and relate to it personally.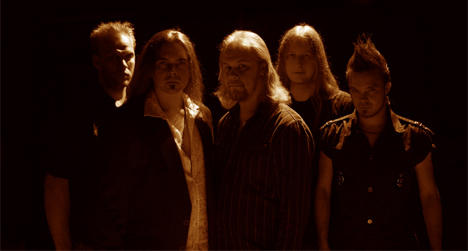 Anthriel (Archangel of balance and harmony) - any deeper meaning behind your name?
Timo / Anthriel - It is simply the best name to describe our music. Like us, Iím sure everyone have felt despair and hope, joy and sorrow in their lives. The point is to learn how to keep that great mystery, the human mind, in balance. That is what we are processing and expressing through our music.
You are releasing this album on the Lion Music label, one of the leading underground metal labels - how did you hook up with them and do you see this as an advantage?
Timo / Anthriel - We had a lot of interested offers along the way. We wanted to have label that was specialised in our type of music, had the experience and had strong distribution. We knew about Lion for long time and we also know personally some artists signed to them so we heard positive feedback. Even though we knew that Lion didn't sign up any new bands at the moment, we sent our CD and they made us a good offer we couldn't say no to. We both have strong faith to each other and we hope to see our co-operation bearing fruit.
What does the words progressive power metal mean to you?
Timo / Anthriel - Difficult one... I'm no good at the genres and sub-genres. There is just too many of them to keep up with.
Name five progressive power metal albums that have made a big impact on today's scene and you personally...
Timo / Anthriel - Still not sure about genres but these ROCK!!!
Symphony-X - "Divine Wings of Tragedy", Majestic - "Trinity Overture", Yngwie Malmsteen - "Seventh Sign", Rhapsody - "Symphony of Enchanted Lands", Kamelot - "Epica".
Thank you very much for answering my questions. Do you have any last rants for our readers?
Timo / Anthriel - Thank you.
Interviewed by Kenn Jensen