---
THE WAR TO END ALL WARS?
"It's all about better than twisted…the same way that I like my vodka martinis." Doogie White's own definition of Metal is accurate as much as it is sophisticated. Armed with his inimitable wit and an enviable vocal prowess he has sung with bands such as the legendary Rainbow (just before Ritchie Blackmore decided to go at a tangent to Rock music). From around 2000 to 2007 Doogie formed part of Yngwie Malmsteen's band and during his career has also guested on albums by several highly esteemed musicians. Then, less than 2 years ago, he was asked to enlist in the ranks of Tank.
Tank were formed in 1982 by bass player and lead singer Algy Ward, also known for his tenure with Punk bands The Damned and The Saints. Considered to be veritable pioneers of British Metal, Tank's success failed to match that of contemporaries and co-nationals such as Iron Maiden, Saxon, Venom, Def Leppard or Praying Mantis. Their influence on the global Metal scene was nonetheless undeniable and long-lasting.
Under a wholly revamped line-up Tank released "War Machine" in October of 2010. The enthusiastic response further re-energised the band and rekindled their ambitions. Will this be Tank's overdue moment of truth? Hoping to unravel their headbanging machinations, I convened with Doogie and guitarist Cliff 'The Riff' Evans, the latter having played with the band since 1984. Our rendezvous was the Tank GHQ from where the band's offensives are usually planned…….a location in the North of London known to the common person as 'The Tabard Pub'.
Straight away I ask Cliff to brief me on the situation...
Cliff Evans: It's all going pretty well. The new album, "War Machine" has done really well. Tank hadn't really done much for a while since the previous album "Still At War" when the band took an 8-year break. A big line-up change has happened with Algy Ward leaving the band, bringing in Doogie on vocals, Chris Dale on bass. We had a better time working on the new album – it a great album, we used a slightly different approach to the old Tank stuff. It's a different style of music but it's all about moving forward really. It was starting to get a bit stale back then with the "Still At War" album [of 2002] and we needed to move on. We're really happy with the direction it's all taking. All the fans seem to love it.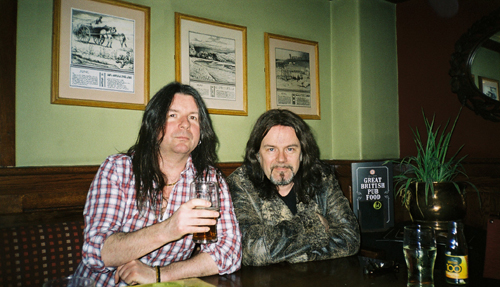 Doogie, it was through Tank guitarist Mick Tucker that you came into the picture, right?
Doogie White: Yes, after I left Yngwie Malmsteen's band I decided to do a solo album…foolishly. I was working with Craig Goldie at the time - Craig is the guitar player of Dio. We wrote 5 songs together and we submitted it to various management people and various record companies they suggested that the songs should have a different take. It should be a Craig Goldie / Doogie White album. So I needed to fill 5 songs on my solo record. A mutual friend of Mick Tucker and myself – Chris – suggested that Mick and I could write well together. So Mick came round and we met at my house….actually I had already met Mick before that. Anyway we quickly wrote a few songs together and one song actually ended up on "War Machine", the song is called 'World Without Pity' and we wrote that one in under an hour. We just continued to write and write. With some people I can write really well and very quickly and do quality stuff together.
Then Mick came to me and said: 'Tank are looking to go and do some summer festivals and Algy Ward – then the band's singer and bass player – cannot do it. Would you like to come and do these gigs? If it goes well, then maybe we can even do an album.' I think that the original Tank stuff was like a school bully, where it came in and it just punched you in the face, very aggressive with Punk overtones. And that's just not what I do. So I kind of suggested to Mick that if we're going to do this, first let's see if we can do Tank songs together. Instead Mick and I wrote 2 songs called 'Phoenix Rising' and 'Great Expectations', both of which ended up in the album. Again, we wrote them very quickly.
What was so fantastic was that when we played them live at the summer festivals, such as Sweden Rock, no-one knew the difference between the older Tank songs and those newer Tank songs. They accepted us as a band working together. The Heavy Metal scene has moved on now, it's got a great deal of young people coming into it and that was great. Back in the early days of Tank there was nobody using DVDs…..
Not even CDs……
Doogie: Exactly. So they accepted the new songs and the old songs, they accepted everybody who was in the band and thought it was a great show. And they weren't wrong.
Cliff: I think the new songs went down even better than the older songs. For example they were singing the chorus of 'Phoenix Rising' the first time they heard it – they picked it up straight away. That's a good sign.
Were you prepared to rearrange the songs on "War Machine" based on the feedback from those festivals?
Cliff: Those festivals were a kind of test. It was down to the fans to accept this line-up or not. If they would have thrown bottles at the stage we might have thought twice about it. I expected some people to complain that Algy wasn't there but there was only one journalist who had a problem with it.
How is Algy? I know he had some health issues…..
Cliff: I haven't spoken to him for a while but he hasn't looked after himself over the years. All the drinking, smoking and partying has kind of taken its toll on him.
Has he accepted Tank in its current incarnation?
Cliff: [grins] Well, as I said I haven't spoken to him for a while…..
Doogie, you had already worked before with Chris Dale, Tank's current bass player. Could you tell me more about that?
Doogie: Chris and I have probably known each other for about 18 years. He's a great bass player and he's a great songwriter as well. Chris is also in a band called Sack Trick which is his side-madness project because…[Doogie lowers his voice and leans closer]…Chris is slightly touched by madness. And that's why he became a bass player, because he could only count to four. [Cliff laughs] If he could have counted to six he would have been a killer guitar player.
I've sung on 3 of his albums, and only because I like him and because he writes such great songs. And because when he gives me anything to sing it's always very leftfield from what I would normally do. I sang in a song on an album of his called "Penguins On The Moon". I had never done a Jazz number before but there was I doing a Jazz improvisational piece in a basement in Brixton [South London]. It was so insane. I don't know what we smoke or drank but at the end of the 4th take we actually had it in place. This was about 12 years ago and it was great. So I've got a high regard for Chris and when we [Tank] knew we needed a bass player, Chris was the obvious choice. He's a great personality as well. I've enjoyed working with him and he's a great friend as well.
Cliff, you had worked with the band of singer Paul Di'Anno (Iron Maiden, Killers, Battlezone) when Tank had ground to a halt in the 1990s. What do you remember about that experience?
Cliff: Tank didn't split up but we kind of stopped for a while after Algy disappeared, as he often did. So in 1989 I moved to New York, where I lived for a while. After a couple of years there I got an offer to join Paul Di'Anno when he was putting a band together with Steve Hopgood [drummer - Battlezone, Persian Risk] who flew Paul out to New York. We got a record deal straight away with BMG…a quarter of a million dollar deal. We did the "Murder One" album in the famed Power Station recording studio.
It was [a] good [experience]. I stayed with Paul for about 12 years…12 long years. He's a great singer and we had a great time together but he's an absolute nightmare to work with. So I'm glad it's over. [laughs]
[If only half the mayhem and debauchery mentioned in Paul Di'Anno's autobiography – "The Beast" – is true, then one might be inclined to empathise with Cliff's predicament.]
Cliff, I think both Paul and Algy had their roots in Punk. How much do you think Punk had influenced Tank, Iron Maiden and British Metal in general?
Cliff: There's always that Punk edge to the music, with those kinds of bands. Definitely you could hear it in Iron Maiden's early stuff – the bass playing of Steve [Harris, Iron Maiden bassist] still has that clamming sound to it. Di'Anno was always into Punk. Algy, of course, was also into Punk having formed The Damned and The Saints. And I like to think Tank still has got that tiny bit of edge in it. I don't like it when the music sounds too safe, it's good to have that Rock 'N Roll and Punk edge in there somewhere.
Doogie, how long had you played with Yngwie?
Doogie: Nearly 7 years. Yngwie's a marvellous technician. He's a fantastic guitar player. He can do things with the guitar that I only appreciated when I actually watched him. And when you watch him play, it's just astounding to see what that guy can do. He really knows his music theory as well, so he knows all the scales and everything that you need to know about music.
I had a fantastic time with Yngwie. It just came to an end because, as always happens with Yngwie, when you're repeating the same formula all the time as he does, you get to a point when something needs to change. And if you look back at Yngwie's history, you'll see that what actually changes is the band. Then he can go back and rehash all the things he had done previously. His best album, songwise, is "Odyssey" with Joe Lynn Turner on vocals. Kind of after that, he's had some great songs on his albums but he repeats himself time after time after time. And in order to make it slightly different what he does is change the band. And more often than not, the singer is the first to get the chop.
I used to be on stage with him when he would start a song and I'd be thinking: 'What song is this that we're actually doing now?' He wouldn't follow the set-list because he wouldn't have seen it on the stage as they hadn't printed it big enough for him. And he would start a song and I'd be thinking: 'Now that sounds like…no…is that going to be 'Never Die'…or is it going to be one from the new album…..?' And I would never actually know what song it would be until…….you know I've just remembered a gig in Mexico, when I went up to the keyboard player and asked him 'What the fuck is this song that we're doing?' And he would tell me: 'Well I think it's this one' because he was lost as well. But because it's the same song repeated again and again, we're all just waiting till the vocals have to come in and then we know what it's going to be.
Listen, Yngwie was very good to me. I got to go to places that I would probably have never had a chance to visit otherwise. I met some great people and it was a great experience all in all. I feel nothing but a great admiration for Yngwie. When great guitar players are mentioned, his name always comes up – so it was a great privilege to have worked with him. He defines a generation of guitar players. It was great to privilege to be with him for that long and for us to have actually not killed each other! We could have killed each other very easily, you know, because we both can have abrasive personalities. But I realised that he was the boss, so it was his call. I would have done things slightly differently but what was kind of interesting is that since I've left the band – which is about 4 years ago now - I think he's only done about 45 gigs since then.
I believe there's Tim 'Ripper' Owens (Iced Earth, Judas Priest) singing with him right now….
Doogie: …….who is amazing - Ripper is one of the new Metal gods out there. But for whatever reason, Yngwie has decided to do only about 45 gigs since I left. You'd need to ask him why that is. I have my own opinion.
While on the subject of tours, I'd like to ask you, Cliff, about the tour Tank had done with Metallica back in, I think, 1984….
Cliff: 1984, that's right. It was the first time Tank had toured. It was for a couple of weeks on Metallica's "Ride The Lightning" tour. We had only just started playing to arena-sized venues then. Already then, you just knew Metallica were going to be huge. They were pretty impressive, all young but full of energy. They had such an amazing sound and the tour sold out every night. Metallica personally requested us to be on the tour as they were fans of ours.
Of course that was when Cliff Burton [late Metallica bassist] was still alive. As we know, he died in a tragic accident while on another subsequent tour with Metallica. Did you ever feel your own life was in danger while on tour?
Cliff: Every day with Di'Anno!
[Everyone laughs!]
Cliff: A fuckin' nightmare! But that's the way it goes and you don't really think like while that you're on tour, having a great time. Of course Cliff Burton's death was a sad way to go.
How did Dave 'Grav' Cavill, Tank's drummer and most recent band-recruit, come to be part of Tank?
Cliff: Well, we had known each other for a while. We had always said we should work together one day – we even drank at the same places. Grav plays in a couple of different bands. Then once we jammed together and it went really well and asked him to stay on.
What had happened to original Tank drummer Mark Brabbs? I believe he was still with the band when you did those summer festivals we mentioned earlier….
Cliff: We got him back in the band a couple of years ago when we told him we're putting Tank together again with a new line-up. But he came back in just for a few shows. He doesn't live anywhere near us – he lives on the Isle Of Man [an island between northern England and Northern Ireland] Plus he's got his wife and six kids and that's his life. We knew he was only back in the band for a short amount of time. But he had a good time and really enjoyed it. He's a great guy and we still keep in touch with him.
Doogie, what was it like for a teenager trying to get hold of his daily Rock music fix in 1970s Motherwell, Scotland?
Doogie: It's nice that you asked because it's going to be my birthday a week from tomorrow – I'm going to be 51 years old. And someone gave me a birthday present and he told me 'You need to open it now.' So I did and it was 'Come Taste The Band' with Tommy Bolin. That was the very first Deep Purple album I ever had. I played it in my car on the way here and I'll tell you what, Kevin Shirley [sound engineer, who went on to produce albums for bands such as Journey, Iron Maiden, Aerosmith, Dream Theater and Page/Plant] has done a fucking great job with that album. It just sounds so brilliant!
I also love David Bowie. Bowie was what I grew up on early on. Then I heard Heavy Rock music, which I didn't even know existed until then. I listened to Deep Purple a lot. Then there was Rainbow and Whitesnake and Gillan and a whole range of such great players. I never looked back since then. I even liked AC/DC – one of the greatest bands on the planet. I had a wee blip in the 1980s when the American party bands were taking over because that didn't really work for me. It seemed to be more about the look and your hair and your make-up than it was about the music. If you break down those songs, you'll actually find they're just pop songs and I was never really a pop sentimentalist. So I listened to other music during that period. But in 1984, when Deep Purple came back with "Perfect Strangers", I was completely blown away.
Then I met a girl who loved Country music and she introduced me to Steve Earle…..
[Both Cliff and myself nod our heads in approval on hearing Steve Earle being mentioned.]
Doogie: ….. – you know, "Copperhead Road" and all that stuff by Earle. And that sort of opened up a new way for me to look at things.
Do you think all these influences you are mentioning crop up in your music today?
Doogie: Well, no. I don't really listen to much music these days. I do listen to Talk Radio – it's really sad but that's what I do. You know, I've always worked with keyboard players before and what was really exciting for me to work with Tank was that it was going to be Metal. That was a challenge for me and one that I've always wanted to do – I've always wanted to be in a twin guitar band and be a bit more aggressive with my vocal lines. So when I got together with Tank, we just wrote the most furious songs that we could write. Lyrically we're touching on things that are a wee bit closer to the mark than just singing about love. Love, broken hearts…..there's none of that shit on this album ["War Machine"]. This album is all about the deeds of politicians, priests, bankers……you can just take whatever you want to take from them [the songs] but there's certainly no love songs on the record. It's all about better than twisted and I think that's the way it should be, the same way that I like my vodka martinis.
Cliff: Another thing is that there was only so much that Mick and myself could do with Algy's vocals, which were rather limited in range. Now, with Doogie, we can start writing music we'd really like to do. So we've definitely moved on in that regards.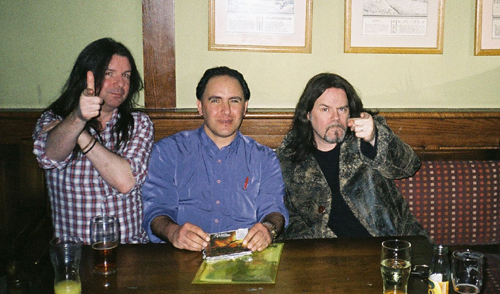 Is Tank writing any new songs, or is it too premature to speak about that?
Doogie: Oh yes, we're doin' it. We wrote 15 or 16 songs for the "War Machine" album. But what we had to do was to choose the songs all that worked together within the album. For example there were certain songs that were very strong, such as 'Judgement Day' 'Phoenix Rising', 'War Machine'' so the other songs had to kind of fit around them. You put the beginning, middle and end. And somehow the album has to work as a whole.
There were 3 or 4 [songs] that somehow didn't quite sit happily with what we were doing and we had spent ages agonising over which ones to leave out. Those songs are sitting in the back burner – whether they'll make it into the next Tank album, I don't know. But we've already started writing new material too – I think we have 4 or 5 definite ideas that are there now. So at the moment we've got about 7 or 8 songs that could make the next album…..which is fantastic!
Cliff: I think the next album really won't be out until next year anyway. So for now we're mainly focusing our efforts on "War Machine". We really think it's a good album and we're very proud of it. So we're spreading it around as much as we can.
One last question, Cliff, you've been involved with Tank for many years. Have your ambitions changed on what you want to achieve with Tank or are you more down to earth these days?
Cliff: Well, now I'm really enjoying playing with the band. Before there was always some problem or another and we never seemed to be going anywhere. Now it really feels like a band, it feels great. It's just about making good music, getting on the road and enjoying doing it all.
Doogie: I think people coming to see the band will find that there's a new life in the older songs. The new songs blend in with the older songs beautifully, which is fantastic. You know, even though the old Tank songs had Punk sensibilities, they still had melody in them. People had said how the fuck is Doogie going to be able to do this, because Algy is a Punk and I do what I do. But the songs were so strong and so good on those albums and the melodies and lyrics worked so well together that we managed to blend them so well with the new material. Anybody who comes to see the band won't notice the difference…..they just might be a wee bit more in tune….or maybe not, depending on whether we use the harmoniser!!
Doogie's sarcastic quips brings smiles to all our faces and the interview comes to an end…well, almost to an end. After exchanging pleasantries one more time I make my way out of the Tabard. Before reaching the exit, I bump into the jolly character of Chris Dale, bass player of Tank. Though relatively young, Chris' curriculum already boasted an impressive string of collaborations before joining Tank. Most notably, he was bass player of Bruce Dickinson's band during Bruce's solo foray.
But first I ask Chris about his band Sack Trick, whose bizarre and highly atypical music I discovered only a few days earlier.
Chris Dale: It's really just about getting out and doing something on a limb. Completely crazy and nothing to do with what we're involved with in our normal lives.
Sack Trick's music sounded to me like Lawnmower Deth meets Frank Zappa….
Chris: Yeah, that's a nice comparison. Sack Trick is about getting things off our chest. Generally I play Heavy Metal – most people in Sack Trick play Heavy Metal. It's just about some friends getting together to play something we don't normally play and challenging ourselves. Throwing ourselves out there, doing something like Zappa, which we're not qualified to do. But we'll just try it, why not. We'll play Kiss songs in stupid styles. Write stupid songs that don't really mean anything. We even did a concept album about some penguins going to the moon.
In my normal life I'd be playing with Tank, writing great songs and being quite serious about getting a good record out there – that's what Tank is about after all. It's about most Metal bands are about. Sack Trick is really about not doing that. We're not going to be famous; we're not going to sell many records. If a few people will like it, that's great. They don't have to like it – it's just purely for our own amusement.
Chris, your experience with Bruce Dickinson's band must have been quite intense. Did you see Bruce's reunion with Iron Maiden as a disappointing interruption to your career or was that an opportunity for you to do other things?
Chris: It was a good thing. I'm a Metal fan, you're a Metal fan, and I think everyone in the world was happy when Bruce went back with Iron Maiden. For me it finished a couple of years before he rejoined them. I did the "Skunkworks" record with Bruce and at the end of that he changed direction and worked again with Adrian Smith [Iron Maiden guitarist] and went to Los Angeles to record an album with Roy Z. So it was all over for us anyway. I was a friend of Bruce and when he rejoined Iron Maiden, all of a sudden I could get on the guest-list of Iron Maiden gigs. I was very happy for him.
I thank Chris for his kind co-operation and while making my way back home I ponder over a number of things. I remember for example that Doogie White had actually auditioned twice as a potential replacement for Bruce Dickinson – the post, as we all know, eventually went to Blaze Bayley. Then there's 'Grav', Tank's drummer, who also plays with the excellent Voodoo Six and occasionally indulges in a bit of insanity with Chris Dale in Sack Trick. And through all collaborations and band members' experiences I come to realise that Tank is not simply a convergence of individual backgrounds. Tank is virtually a distillation of British Metal. So whether you're Metal veteran or a curious novice and want to experience Metal in all its British glory, then Tank is the real deal.
---