---
A new band with members that have proved themselves in other bands, can you give a short introduction who are in the band?
Frank Schiphorst:
Band:
- Mark Jansen of Epica. Grunts in MaYaN.
- Jack Driessen, former After Forever. Keys in MaYaN.
- AriŽn van Weesenbeek of Epica, former God Dethroned. Drums in MaYaN.
- Isaac Delahaye of Epica, before that God Dethroned. Guitars in MaYaN.
- Rob van der Loo, former Delain and Sun Caged. Bass in MaYaN.
- Myself, Frank Schiphorst, former Symmetry, Marcel Coenen & Friends, Control Human Delete, Christmas Metal Symphony etc. Guitars in MaYaN.
The guests:
- Simone Simons of Epica. Vocals in MaYaN.
- Henning Basse of Sons of Seasons, former Metalium. Vocals in MaYaN.
- Laura Macrž, Lyrical-/Operasinger. Vocals in MaYaN.
- Floor Jansen, ReVamp, former After Forever. Vocals in MaYaN.
Album:
- Jeroen Paul Thesseling of Pestilence, Obscura, Ensemble Salazhar. Bass on MaYaN – Quarterpast.
Why did you start this band, you all are busy enough in your other bands?
Frank: Here we can do whatever we want without having to consider it fitting the style of the band, to go to extreme or whatever. This is for me the purest way of making and playing music and I love it. Since doing this I quit the other bands I was in to create the opportunity to fully go for it with MaYaN and it's so fucking worth it!!
Who did come with the name MaYan and why this name?
Frank: Mark came up with a list with ideas for a band name, from which one was "Maya", but we wanted to know what the fans would come up with as well, because there could always be a brilliant name out there. So we made it a contest. We got many cool names and reactions emailed, and although the perfect band name wasn't there, the perfect album name was; Quarterpast. Made up by Robert Hanley who then won the VIP-treatment at our album release party in Paradiso, Amsterdam. But still not the perfect bandname. We really wanted a short and clear name (however I loved another idea from on of our contesters: "Confetti of Flesh" haha, for if we would be grind band that is. Then I started thinking about that list again, suggested to put a "n" after Maya, because of the symmetry in it as a logo and the sound of and idea behind it, sent it to the guys, and we saw this one being the perfect band name. For the symmetry Mark immediately typed it as "MaYaN" and the logo fits this perfectly too.
Your guest musicians Floor Jansen and Simone Simons are no surprise, but how did you get the idea to ask Laura Macri and Henning Basse?
Frank: Mark knew Laura already, and when he heard her sing on YouTube, he was amazed. As were Jack and I when Mark sent us videos of her performing. Goosebumps. She just had to be on our album, and her amazing Opera-vocals really fit our music and takes it to a higher level. When writing the music it inspired us to talk about clean male vocals too, had some ideas, and then Mark came up with the perfect guy; Henning Basse. We were blown away by his versatility full of emotion; from clean powerful metal vocals all the way to brutal screams, this man has everything we could wish for.
Rather special to sign with Nuclear Blast without having one album out. How did they get interested in the band?
Frank: Mark and Epica are working with Nuclear Blast for several years in a very positive way already, so the first idea was to sent them some MaYaN demo's we recorded ourselves, and Mark told that if they would come up with a good offer we wouldn't even look for other record companies. When they heard our music they replied to us they were literally head banging behind their desks, and they were really impressed, and they made us that offer!
Variety in styles is what you serve on this album. Fans of different genres could like this album. Was it meant to be that way, or did it just evolve during sessions?
Frank: The album really is our spontaneous music. We wanted to do something more deathmetal with tech and symphonics, as these are our styles of music. We couldn't predict it would come out like this though.
God Dethroned, Epica, Symphony X, Nevermore, Rush, Death, After Forever, Cradle of Filth, etc. etc. The music of this bands can all be found back in MaYaN, without sounding like anyone of them. Can you agree on that?
Frank: Well thank you! I like all these bands and I can understand you hear these in our music. Cool to hear the 'without sounding like anyone of them'. Yeah it's just our own way of playing and then you get this. Could go any way I guess.
The music is complex, technical and progressive, but not very difficult to listen to. This is a problem some bands have, too complex and too virtuosic and because of that a lot of metal heads don't dig it. What's the secret?
Frank: Mark! Haha. He's the main man to make songs out of our music. We think it's most important to make good songs and we all feel when something fits or doesn't. So never lose sight of the bigger picture when going crazy on your instruments. It's about music, not about showing off.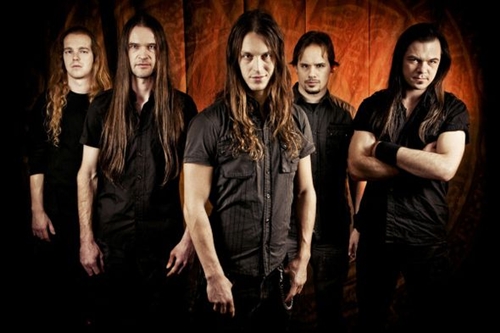 Did Sascha Peath do the complete production, or did he just finish it off.
Frank: We worked with different producers from the Gate Studio's on the different instruments, however Sascha's the main man for this album. Very musical guy with great ears. Did a great job, also our mixer.
You must have felt that you made something special, did you expect the positive reactions of the press?
Frank: I'm quite down to earth on that, as in "we'll see", but yeah, we felt like this being good stuff because the pureness of it and we worked hard to make it good songs. I think the pureness/limitless spontaneous writing without thinking about what to play, shows our own face, which you can't really compare to some other band, so I did expect it to stand out in one way or another.
The band is going on the road, can we expect some of the guests playing on the stage too?
Frank: Yeah we almost finished our first tour, and at our CD-presentation in Paradiso, Amsterdam, all guests joined us. For the rest of the shows we're joined by Simone, Henning (also joining us with his own band Sons of Seasons) and Laura.
Already been asked for some big Summer-festivals?
Frank: as most fests are booked full for this year we're happy to say that we've been programmed for one of the biggest ones and that's the Zwarte Cross here in Holland in July. Besides that we're talking and been asked by others and hope to get the opportunity to do as much as still possible.
What is going to happen when the band gets more popular than the bands some of you are now playing in? Could this give problems in the future?
Frank: We do our bests to combine everything. Shouldn't give problems, only added positiveness!
Will there be a second and third album in the years to come?
Frank: We've signed with Nuclear Blast for four albums, so you can count on it! We've already written like four or five new songs now. Our music flows out automatically when we get together, it's something natural, we inspire each other big time, and this works really fast.
You probably have done many interviews already. What question do you want to answer that no interviewer has asked you yet? And what's the answer?
Frank: True, it's such a compliment! What question.. Favorite food? Kapsalon!
Anything else you want to share with our readers?
Frank: Yeah thanks so much for supporting us, and thus giving us the chance to do our thing as good as possible! And please let us know what you think of our album! See ya on the road!!
Thanks for taking the time to answer my questions!
Frank: Thanks to you too!! Cheers!
---