---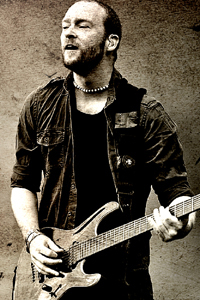 I am sure you are a big unknown to most of our readers – so could you please start by introducing you self?
For All We Know - Well, I'm quite busy working with different bands and artists (Within Temptation, Anneke van Giersbergen (ex The Gathering), Maiden uniteD) but For All We Know is my own self produced project containing 12 original songs. I was really fortunate to work with amazing musicians: eg. Léo Margarit (drums, Pain of Salvation), Kristoffer Gildenlöw (fretless bass, ex-Pain of Salvation), Wudstik (vocals, Ayreon), Daniel Gildenlöw (Pain of Salvation), Sharon den Adel (Within Temptation), John Wesley (touring guitarist Porcupine Tree) and Damian Wilson (Threshold, Ayreon, Star One).
If you had to pick one song off the album that represent the essence of For All We Know, which one would you pick and why?
For All We Know - I guess that would be 'Out of Reach'. This song contains most of the ingredients; the open, organic vibe of the softer side due to the piano and acoustic guitar. But the song builds to a climax where you can hear the heavy side of For All We Know with heavy drums and guitars and the complex vocal harmonies that are used on a lot of songs of the album...
"For All We Know" is your debut album, but how happy are you with the final result?
For All We Know - I'm extremely happy. I never had a deadline for anything which means that I was able to really take my time for everything. I could look at every little detail with a magnifying glass without taking the life out of it. One of the things I tried to achieve is to make this album sound as tight and heavy as possible without losing the human touch. I think I've achieved that...
If you had the choice to pick your producer (free of charge), who would you pick and why?
For All We Know - I guess that would be Forrester Savell who also did the latest Karnivool album 'Sound Awake'. I don't how many of his ideas are incorporated in the album but that record sounds so good. That bass sound! Wow!!!
Your music is very emotional - but if you had to state one emotion to describe For All We Know, which one would it be and why…?
For All We Know - Confused; like you said, there are a lot of emotions and if the album would be one long song i guess you would be very confused in the end because of all the different vibes and atmospheres...
Who and what has inspired you musically?
For All We Know - Lotsa things; musically I guess bands like Porcupine Tree, Pain of Salvation, Sigur Rós, Opeth, Sufjan Stevens. But lyrically I get inspired by books, movies and comic books...
Could you give a brief introduction to the lyrically concept for "For All We Know"?
For All We Know - It's not really a concept album. I didn't do that because it has been done so many times. But one of the topics that is like a red line through all the songs is taking a path on your life's journey. Going from A to B directly or by detour. And that's a choice you have. But what is the best route to take? So you try to decide by putting all the available data on a balance. So that's a very important keyword. The cover shows a surrealistic picture of a blindfolded human figure with red and white ropes strapped to his arms. But is he being pulled to take him down or is he being kept in balance by the opposite forces?...
What's next for For All We Know…?
For All We Know - In may I'm going to do three shows in Holland. Depending on how it's received and depending on how much time I'll have I might do some more some time later. I'm not sure if there will be a second album.
How did you end up with a name like For All We Know, any interesting stories to tell?
For All We Know – Well, I've always found it a very interesting statement. There's a lot of uncertainty speaking out of the phrase. So there must have been a question before that. We all have questions that we want to have answered. Whether it has something to do with the question of life or something more mundane like if the girl you're secretly in love with shares these feelings with you...
For All We Know is a project – did you feel it was necessary to start a project to run at the same time as Within Temptation? Sort of a musical outlet for the music that didn't fit WT…
For All We Know - Yes, exactly. Even though WT can be really really busy sometimes it also gives me a lot of freedom to work on all these different projects...
What does the words progressive metal mean to you?
For All We Know - Well, I guess that most people consider heavy music that is a bit unpredictable progressive metal. I guess that also goes for me...
Thank you very much for answering my questions. Do you have any last rants for our readers?
For All We Know - Well, I hope that your readers check out this album. And I always appreciate comments either on my own or the dedicated ForAllWeKnow facebook accounts...
---