---
Swedish guitarist Michael Amott has been around the heavy metal block a few times in his 26 year career. Being a part of such influential bands Carnage, Carcass, Spiritual Beggars and currently, Arch Enemy, his versatility and musicianship is unprecedented. Calling from his home in Sweden, Amott filled me in on what's new with Arch Enemy.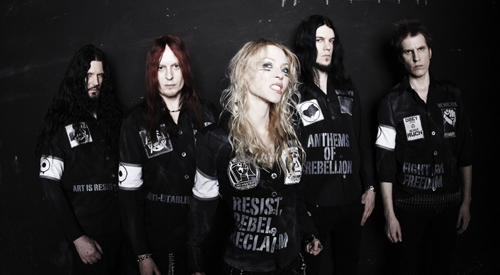 Your first band Carnage was such a great band but a very underrated and underground band. Do you still get comments about the band and do you have fond memories of that time in the band?
That was a long time ago (laughs). Not a lot of people talk about that. The memories I have of it was of frustration, that's all I remember. It was kind of difficult. We weren't as good as we wanted to be (laughs). The fun part of it was being part of the underground and being part of the tape trading and all the other stuff was kind of exciting.
You've been involved in many influential death metal bands such as Carnage, Carcass, Spiritual Beggars and Arch Enemy, what has led to your longevity and creativeness?
I don't know. I still enjoy it so much. I found out exactly what I wanted to do and what I was good at, at 14 years old, and I just stuck with it. It's been my life-long passion. Metal and playing guitar makes me happy and makes me tick.
In my opinion, after you left Carcass after Heartwork, they kind of went a bit downhill with Swan Song, do you agree?
I haven't really thought too much about that. I think every Carcass album was always different from the last one, the band was always progressing quite a lot. We did a reunion thing in 2008 and we played one song from that album and it was a fun song. I think that could have been a better album, maybe just the production sounded a bit tame, but I guess that's what they wanted to do.
Has there been any talks of a new Carcass album?
That hasn't been discussed, really. The reunion was about going out and playing the old material and just having fun with that. A lot of fans missed out on that and never saw the band live and wanted to see the band again. I thought we delivered a cool show and it was a great result. We never discussed making new music.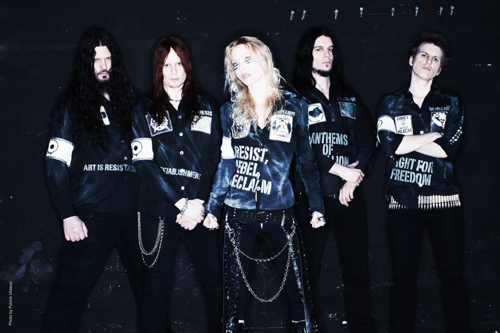 Spiritual Beggars' Return to Zero has an awesome '70s rock spirit to it. Was it a huge inspiration on you to be able to play music in the realm that Spiritual Beggars play?
I kind of went backwards. In the '70s. we didn't have ... like in America back then anyway, you had a lot of classic rock played on the radio, but in Sweden it wasn't really like that. It was a bit more sparse. Kiss was a big band here and was an early influence when I was a kid.
Bringing in Angela in 2000 after Johan left, did you think it was a bold move to get an unknown singer and a female one at that, because there weren't too many female death metal singers at that time?
Yeah, I guess it was kind of bold. We didn't realize it at the time, the reaction. We just thought she's really good, different and she looks great and she's got a lot of confidence on stage from what we've seen from her previous band. She just had killer vocal chords ... screams to die for. We just thought this was going to be awesome and just did it. We recorded the album (ajajaj) with her and started touring. I guess in hindsight people told us that was a really ballsy move and an exceptional groundbreaking thing, but I hate to say it, we didn't really think about it at the time. She's a great singer.
Were you looking for a specific singer to replace Johan or did Angela already fit the style?
We were looking at different options. It becomes quite boring because the only ones you know of are the other people that are already in bands. You don't really know of the people practicing at home and nobody knows about them. I guess it's easier now when YouTube exploded to find people around. We didn't really wanted to get a well-known singer who was already in a band. We were looking for a certain type of voice and was looking for someone with a good stage presence, and I think we found that.
Your new album Khaos Legions still has that distinguishable AE flavor and trademarks with loads of variation. What was your mindset while writing for this album?
It was just like, get in a room, go for it, whatever sounds good is good ... those kind of cliches! (laughs). We feel this album has a lot of depth and diversity. It covers a wide spectrum of influences. One of the main reasons for that is we had four years to put it together. We were writing on the road over a four-year period. There was just an archive of a lot music to go through once we were actually putting together this album. It's kind of all over the place but hopefully it still makes sense! (laughs)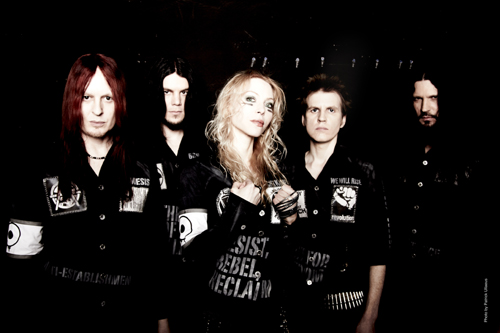 After your brother Christopher left the band for some time before coming back, was it a difficult time for him personally as well as for the band to deal with?
It was, but we had a couple of guys that came in and replaced him. A guy named Gus G., he's with Ozzy now. We had another guy for a longer period, for about a year and a half, he plays in Opeth now. It was actually a lot fun playing with a different guitar players, but at the same time though, I missed my brother. That's kind of the Arch Enemy sound, me and my brother playing together.
You toured for three years I believe for Rise of the Tyrant. What's your plans for the Khaos... tour?
That's the really cool thing about Arch Enemy having a fan base worldwide, truly worldwide. We can go all around the globe, and that's all we do. We're very lucky that we've got that opportunity. We're an underground band but we're kind of a big underground band. We have fans all over the world. We're already looking to 2012. It's going to be a long haul. The Khaos Legions album is going to take us around the world a few times, hopefully.
---